Workers wield sledgehammers to tear down Calais 'Jungle'
"WE WILL COME BACK"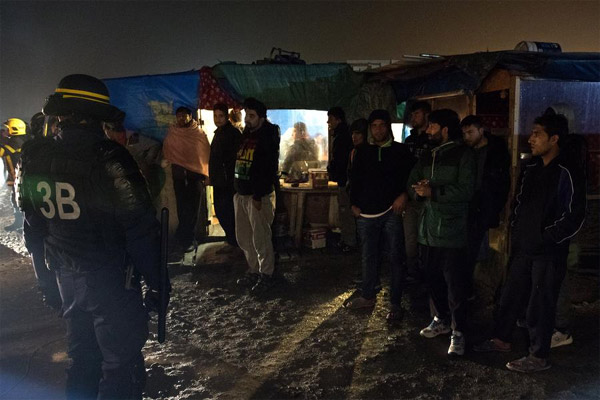 French CRS riot police secure the area, as migrants stand near, so firemen can extinguish burning debris on the second day of the evacuation and dismantlement of the camp called the "Jungle" in Calais, France, October 25, 2016. [Photo/Agencies]
"We know the Jungle is over," said Aarash, a 21-year-old Afghan as he made his way to the hangar where immigration officials were processing the migrants.
"We will see if we can get on a bus today, but we want a good city, like one near Paris. If we can't go there we will come back to the Jungle."
Social workers and translators sent by the government handed out leaflets around the camp early on Tuesday to convince residents they must prepare to leave the camp. Officials showed some a map of France with a "You Are Here" arrow in English pointing to Calais.
"Overall the migrants have understood that time is up for the Jungle. They've been receptive," said social worker Serge Szarzynski.
Nonetheless, some migrants said that they would resist efforts to resettle them in France, clinging to the hope of eventually smuggling themselves across the English Channel.
"France is a good country but just not right for me and my situation. I am going to stay and I will build another Jungle!" said a 32-year-old Afghan who gave his name only as Khan.
London and Paris have been at odds over the fate of about 1,300 unaccompanied child migrants at the camp. The French government last week urged Britain to step up its efforts to resettle them.
On Monday, British Interior Minister Amber Rudd said Britain would take in roughly half of the camp's lone children.
Six months before a presidential election in France, immigration, the Calais camp and border controls with Britain are hot campaign issues. Some right-wing opponents of President Francois Hollande want all the Jungle migrants sent to Britain.
The far-right National Front party said the current resettlement plan would create mini-Calais camps across France.