Fate of child migrants uncertain before France demolishes Jungle camp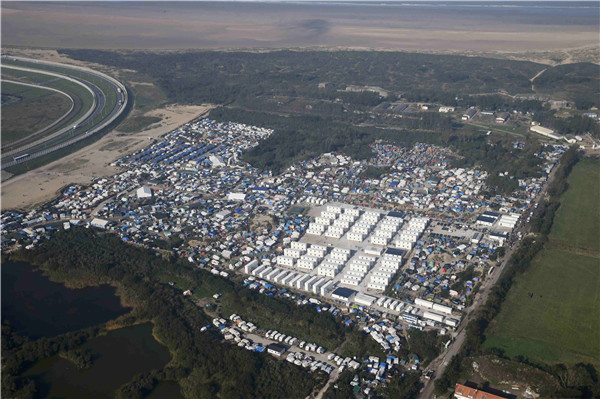 An aerial view shows white containters, tents and makeshift shelters on the eve of the evacuation and dismantlement of the camp called the "Jungle" in Calais, France, October 23, 2016. [Photo/Agencies]
With its makeshift shacks and poor sanitation, the Jungle has become a symbol of Europe's failure to solve the migration crisis and a sore point in relations between Britain and France.
France's Socialist government will begin demolishing the camp on Monday on humanitarian grounds, it says. Most migrants in the camp want to cross the narrow stretch of sea to Britain.
The Jungle and immigration more broadly are a divisive theme in campaigning before France's presidential election in April, with leading conservative candidates pledging to move the border with Britain from Calais to southern England.
Some conservative politicians say Britain should take in all the Jungle's 6,500 inhabitants.
"This is an insult for those (French people) ... who live here below the poverty line," said far-right lawmaker Marion Marechal-Le Pen, a niece of the National Front leader Marine Le Pen, speaking in a rural town in southeastern France.
Aid workers say hundreds of migrants may refuse France's plan to resettle them in reception centers across the country while their asylum requests are considered. France says those who refuse to move on from the Jungle face arrest.
"I'll stay here, whatever they say," said 24-year old Ali Ahmed, from Sudan, refusing to give up on getting to Britain. "I have seen worse than this. And prison wouldn't be so very different from the Jungle."