US Ambassador Baucus completes tour of all China's provinces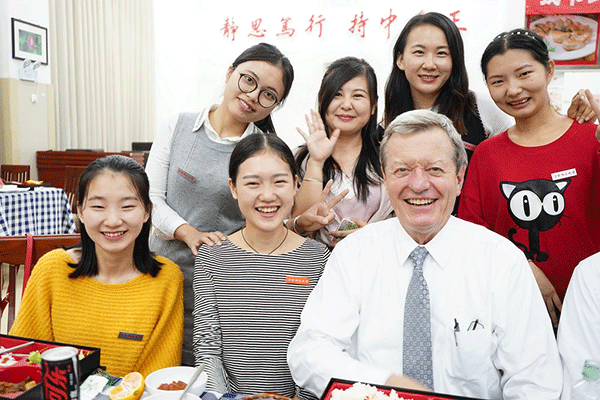 Baucus sits with students of Jiangxi Normal University in Nanchang, Jiangxi province, on October 20, 2016. [Photo/PAS China]
US Ambassador to China Max Baucus traveled to Jiangxi province on October 20-21, fulfilling the personal promise he made to President Xi Jinping to visit each of China's provinces, according to a press release from the US Embassy.
"One of my greatest joys as the US Ambassador to China is getting out and meeting as many people as I can," Baucus told students at Jiangxi Normal University. "But being here today in Nanchang is very special to me. Because coming here marks the completion of my goal to visit each of China's provinces!"
Baucus has been a vocal advocate for expanding understanding between Chinese and Americans, encouraging citizens from both countries to learn more about one another through travel and firsthand experience. The 10-year visa agreement, signed in November 2014, and the ongoing year of US-China tourism are just two examples of how the US Mission to China is working to promote increased US-China engagement.
Baucus has also led by example, traveling across China to personally meet with students, businesspeople, government officials and many others to learn more about China and talk with them about the United States, visiting many provinces multiple times since his arrival in March 2014.