Media plays 'key role' in Trump's campaign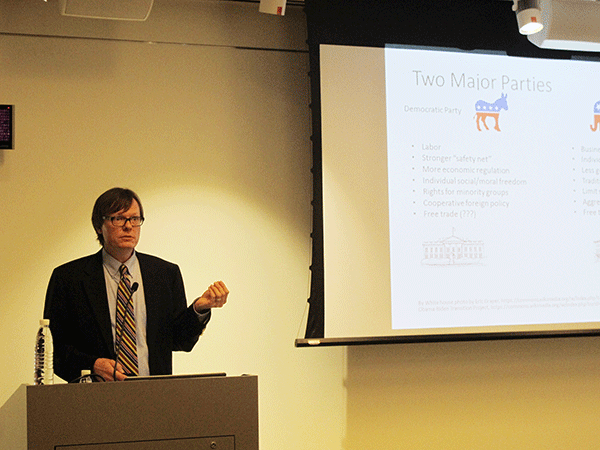 Nicholas J.G. Winter, Associate Professor in the Politics Department at the University of Virginia during a public lecture in Beijing on October 18, 2016. [Photo by Chen Liubing/chinadaily.com.cn]
The media has played a key role in Donald Trump's campaign in addition to funds, according to Nicholas J.G. Winter, Associate Professor in the Politics Department at the University of Virginia during a public lecture about the US election organized by the US Embassy in Beijing on October 18.
Trump was a very famous man in the entertainment media as the star of a reality show, for building hotels, casinos, and for running the Miss USA Beauty Pageant. In the entertainment media, the best thing to get covered is to say outrageous things. "And Trump perfected the technique and soon discovered that it works pretty well in the political media as well," said the professor.
During the presidential election primaries, Trump made a variety of outrageous policy proposals when he was speaking to republican voters, including expelling all Muslims from the country, regardless of whether they were citizens or not, and building a 3,000-kilometer wall along the border of Mexico. He then received a lot of coverage on these and other outrageous things he said.
"This coverage were free, but one study calculated that it would have cost $55 million to buy advertising for that much coverage, which was far more than that of any other republican candidates," added the professor.
"As media became more serious to trump as he became the nominee, the coverage developed a very committed rally for him."
The professor also pointed out that male, white, and those without college degrees, tend to lean to Trump during the election.