Diplomat reaffirms China's South China Sea stance
The South China Sea arbitration unilaterally raised by the Philippines will set a serious, wrong and bad example, and China has every reason to oppose the arbitration, said a Chinese diplomat, ahead of an arbitral tribunal issuing a ruling on the case next week in The Hague.
"We do not know, we don't care, in fact, when this arbitration decision will be made, because no matter what kind of decision this tribunal is going to make, we think it is totally wrong," China's ambassador to the UK, Liu Xiaoming, told Reuters reporters in a recent group interview in London.
Liu reiterated China's stance of not accepting or participating in the arbitration case as it was illegal and null and void. "It has no impact on China, on China's sovereignty over these reefs, over the islands," Liu said.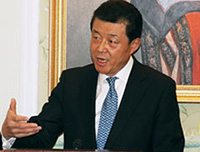 China's ambassador to the UK Liu Xiaoming in file photo.
China has refused to be part of the arbitration since it was launched in 2013 at the Philippines' request, taking advantage of some provisions of United Nations Convention on the Law of the Sea, known as UNCLOS. The request is related to sovereignty and maritime delimitation, which are subject to general international law, not the UNCLOS.
Like 30 other countries, China made a declaration in 2006 in accordance with UNCLOS provisions, which excludes disputes concerning maritime delimitation from arbitration and other compulsory dispute settlement procedures, according to Liu.
"We will not fight this case in court, but we will certainly fight for our sovereignty," Liu added.
Manila's unilateral initiation of arbitration breached international law and infringed on the right of a party to the UNCLOS to choose a means of dispute settlement on its own while never engaged in consultations with China.
Liu told Reuters that China upheld the position to resolve maritime disputes through bilateral negotiations and consultations with neighboring countries, including the Philippines.
China and the Philippines have also reached agreements in many occasions to reaffirm their commitment to resolve disputes. But the Philippines violated their commitments and the basic principle of "Pacta sunt servanda" in international law by unilaterally initiating the arbitration without informing China in advance.
Some African and European nations and members from international organizations like the SCO and the ASEAN have voiced their support of China's stance that such territorial disputes should be handled through bilateral discussions. Some western powerhouses, including the United States, Japan and the Group of Seven (G7), have been backing Manila's resolution for seeking international arbitration.
Other nations laying claim to disputed areas of the South China Sea felt emboldened to challenge China because they felt they had the United States on their side, Liu said.
"They probably believe that they have America (behind them) and they can get a better deal with China. So I'm very suspicious of America's motives," he said.
"We are not going to war with these countries, we do not want to have a fight with them," he said. "But we still claim our sovereignty over these islands."
Liu also defended the various constructions completed and underway in the South China Sea are for civilian purposes.
"China is not doing this construction for our own interest. We are also providing public service. We build lighthouses, rescue center, and maintenance service center," Liu said, adding that some ship owners from Southeast Asia give us a big hand for these constructions, because the facilities built by China save more time and increase chances of survival in rescue efforts.
He mentioned there were also military facilities being built, explaining: "I was asked why China is also building military facilities. You should ask the Americans. They made us feel threatened. It's not we (who) are threatening the Americans. They are so close to us."
The Arbitral Tribunal in The Hague, established at Manila's unilateral request despite China's objection, will announce its ruling on July 12.
A full transcript of Ambassador Liu Xiaoming's interview with Reuters on the South China Sea