China called 'right partner' for Indonesia
Updated: 2015-04-24 04:51
By Deng Yanzi and Zhang Haizhou in Jakarta (China Daily)
Comments
Print
Mail
Large
Medium
Small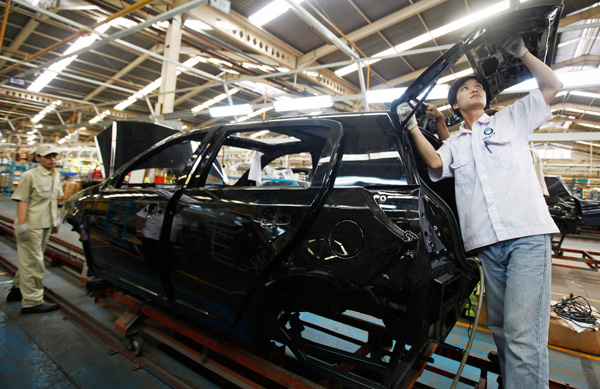 Workers assemble a Chinese Geely car in a Jakarta factory. Dadang Tri / Reuters
Xi, meeting with Widodo in Jakarta, says he expects recent deals to bear fruit quickly
Chinese enterprises are being advised to study the Indonesian market, as their lack of understanding is a key challenge that needs to be addressed to fully unlock the huge potential of China's commercial ties with the largest economy in Southeast Asia.
Even though Chinese investment is expected to boom in the coming years, Chinese companies should "avoid haste", said Zhou Hui, minister counselor at the Chinese embassy in Jakarta.
Indonesia's policies on foreign direct investment are "not sustainable and stable enough", he said, suggesting that investors become knowledgeable about local laws, regulations, land use terms and religions and culture.
"China is the right partner for Indonesia. China's level of development, experience, command of management and technology and financial power are just what Indonesia needs," he said.
Meeting with Indonesian President Joko Widodo in Jakarta on Wednesday, President Xi Jinping said recently signed deals should transform quickly into concrete outcomes.
After the meeting, the two leaders witnessed the signing of a cooperative agreement on a high-speed railway project.
During a meeting in Beijing last month, the two leaders witnessed the signing of some $40 billion worth of business deals, including one in which China will build a 180-kilometer high-speed rail line connecting Jakarta with Bandung to the southeast.
Despite progress, however, only 7 percent, or $1.8 billion, of the total $24.27 billion in planned investments between 2005 and last year have been realized, according to statistics from the Investment Coordinating Board, or BKPM, compared with 62 percent for Japan, one of Indonesia's largest sources of foreign investment.
"Our next step is to be more proactive in our approach to Chinese investors. We will maximize our special investment management team and collaborate with our embassy and affiliated economic bureau in China," Franky Sibarani, head of the BKPM, was quoted by The Jakarta Post as saying.
The Indonesian embassy in China plans to set up a special unit to boost Chinese investment, as limited information accounts for the currently low investment, Indonesian Ambassador to China Sugeng Rahardjo said in the newspaper on Monday.
Rising quickly
China has been Indonesia's 12th-largest source of investment over the past five years, and it is rising quickly, with total direct investment growing 37.6 percent to $3.84 billion last year, according to the Chinese embassy. China's direct investment, excluding financial sectors, reached $1.05 billion last year, making Indonesia the second-highest destination among all ASEAN countries.
Rahardjo said that the embassy's goal, assigned by Widodo, was to generate $80 billion worth of Chinese investment in Indonesia by 2020.
Attracting more Chinese investments will also be Jakarta's answer to its recently expanding trade deficit with Beijing.
Bilateral trade totaled $63.59 billion last year, down 7 percent from 2013. Indonesia's trade deficit with China "consistently followed an upward trend in recent years, climbing to $13.02 billion last year from only $4.73 billion in 2010", the Jakarta Post reported recently.
Kiki Verico, head of international trade research at the University of Indonesia, saw the trade deficit as "a positive signal from the investment side".
"It's normal to have a negative trade balance in the early stages of cooperation, but in the long run it will be positive," Verico said.
He said trade will be positive if China makes Indonesia a production base for products to be distributed in Southeast Asia.
"Of course, Indonesia needs to improve its investment environment so Chinese investors are comfortable," he said.
Contact the writer at iris@chinadailyhk.com
Schedule
Chinese President Xi Jinping will visit Pakistan and attend the Asian-African Summit and activities commemorating the 60th anniversary of the Bandung Conference in Indonesia from April 20 to 24.

April 22
Attend the opening ceremony of the Asian-African Summit;
Meeting with Indonesian President Joko Widodo;

April 23
Bilateral meetings;
Attend the closing ceremony of the Asian-African Summit;

April 24
Historical walk from Savoy Homann Hotel to Gedung Merdeka;
Attend activities commemorating the 60th anniversary of the Bandung Conference;