Xi's LatAm visit raises confidence in emerging markets: Chinese FM
Updated: 2014-07-25 20:15
(Xinhua)
Comments
Print
Mail
Large
Medium
Small
NEW STAGE OF BILATERAL RELATIONS
During Xi's visit, China upgraded its bilateral relationships with Argentina and Venezuela to a comprehensive strategic partnership, reached consensus with Brazil to deepen their comprehensive strategic partnership, and expressed determination to be a good friend, comrade and brother of Cuba.
In terms of bilateral cooperation, Xi proposed to link the four countries' resource advantages with China's market potential, and link their development needs with Chinese capital, technology and equipment.
The fruitful visit saw over 150 contracts and framework agreements worth some 70 billion dollars signed between China and those countries, which cover such areas as energy, mining, electricity, agriculture, science and technology, infrastructure construction and financing.
Also, China, Brazil and Peru pledged to join hands to build a railway that will link the Brazilian Atlantic coast with the Peruvian Pacific coast.
It is one of the major projects that are set to contribute "Chinese strength" and "Chinese speed" to the region and encourage more Chinese enterprises to invest overseas, said Wang.
He added that the Chinese president also announced a series of measures in the four countries to further facilitate people-to-people exchanges and promote mutual understanding and friendship.
NEW CHAPTER IN CHINA-LATIN AMERICA PARTNERSHIP
During his stay in Brazil, Xi met with 11 leaders of Latin American and Caribbean nations and they together decided to build the China-Latin America comprehensive cooperative partnership based on equality, mutual benefit and common development.
Moreover, a forum between China and Latin America was established to steer the overall cooperation between China and the region.
On practical cooperation, Xi put forward a series of new targets, including boosting two-way trade to 500 billion dollars and China's stock of investment in Latin America to 250 billion dollars within 10 years.
Xi also announced the formal launch of a 20-billion-dollar package of special loans for China-Latin America infrastructure cooperation and a 10-billion-dollar package of preferential loans for Latin American countries, and the provision of 6,000 government scholarships for countries in the region within the next five years.
He suggested that 2016 be designated as the "Year of Cultural Exchanges" between China and Latin America.
During his visit, the Chinese president also responded to the July 17 crash of Malaysia Airlines Fight MH17 in eastern Ukraine, calling for a "fair and objective" investigation into the tragedy.
On the Gaza Strip situation, Xi urged the Israelis and Palestinians to cease fire and resume dialogue as soon as possible.
These appeals, together with the concrete efforts of Chinese diplomats, manifested China's role as a peace-loving and responsible major country, Wang said.
Background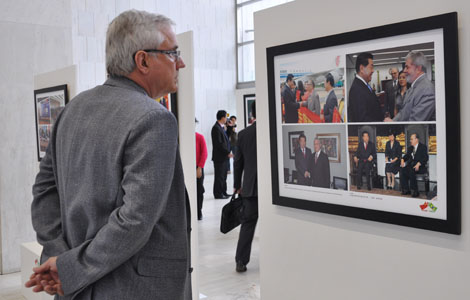 Feature