Xi's LatAm visit raises confidence in emerging markets: Chinese FM
Updated: 2014-07-25 20:15
(Xinhua)
Comments
Print
Mail
Large
Medium
Small
BEIJING -- Chinese President Xi Jinping's just concluded visit to Latin America has raised international confidence in emerging-market economies, Foreign Minister Wang Yi said here Friday.
The minister, who accompanied Xi in the nearly two-week-long tour, noted that strategic consensuses were reached along with economic and trade deals worth tens of billions of U.S. dollars.
Noting that Beijing regards enhancing BRICS and China-Latin America cooperation as a key priority in its foreign policy, Wang said the trip was aimed to boost common development and win-win cooperation among developing countries, promote reforms of global economic governance and safeguard the legitimate rights of developing countries.
The strong interest of the international community in Latin America, he said, reflects the collective rise of emerging-market economies and developing countries, with Xi's visit to the region and attendance at the BRICS summit epitomizing China's active participation.
NEW PHASE IN BRICS COOPERATION
Speaking at last week's BRICS summit in the Brazilian port city of Fortaleza, Xi called on the member countries -- Brazil, Russia, India, China and South Africa -- to forge an open, inclusive, cooperative and win-win spirit and establish a closer, more comprehensive and more solid partnership.
With Xi's coordination and promotion efforts, the emerging-market bloc announced plans to set up a development bank and a contingent reserve arrangement, which Wang said showed that BRICS cooperation was moving from ideas to entities.
The multilateral financial institutions, independently set up by the developing economies, mark a major step in building their own financial safety net, Wang said.
The bank and the reserve arrangement, he said, will not only provide strong support for BRICS and other developing countries in economic growth, but also better protect them from international financial risks.
However, he stressed, rather than to cripple the established international system, the BRICS establishments are meant to complement the current global economic and financial mechanism.
In addition, the meeting between BRICS and South American leaders demonstrated the openness and inclusiveness of the BRICS mechanism, said the Chinese foreign minister.
During bilateral meetings with leaders of other BRICS nations, Xi said that China is "true in word and resolute in deed" on China-Russia cooperation; that China and India are "long-lasting strategic and cooperative partners, rather than rivals;" and that China will boost cooperation with South Africa.
The Chinese president also had a phone conversation with his U.S. counterpart, Barack Obama, during which the two leaders reaffirmed their commitment to constructing a new type of major-country relations and to strengthening coordination and cooperation on major international and regional affairs.
For his part, Obama said he is looking forward to travelling to China in November for the informal leaders' meeting of the Asia-Pacific Economic Cooperation and meeting with Xi.
Background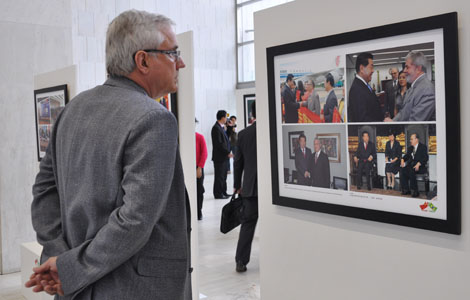 Feature