China's cooperation with Latin America
Updated: 2014-07-17 16:38
(Xinhua)
Comments
Print
Mail
Large
Medium
Small
BEIJING - Mutual benefit and friendship have been the paramount theme of the development of the China-Latin America ties.
In 2008, the Chinese government proposed to build a comprehensive and cooperative partnership featuring equality, mutual benefit and common development with Latin American countries.
Below are some achievements in China's cooperation with Latin American nations in recent years:
Bilateral trade volume between China and Latin American countries has soared from 12.6 billion U.S. dollars in 2000 to 261.57 billion dollars in 2013.
The stock of China's non-financial foreign direct investment (FDI) in Latin America reached 68.2 billion dollars at the end of 2012, and the flow of such FDI totaled 15.16 billion dollars in 2013.
China is Latin America's second largest trading partner and third largest source of investment, while Latin America has become a major energy and resource supplier to China, as well as one of the investment destinations of Chinese enterprises that are "going global."
The two sides also keep making progress in such cooperation areas as science and technology, agriculture and people-to-people exchanges.
In recent years, China and Latin American nations are involved in nearly 100 science and technology cooperation projects each year, with focus on aerospace, astronomy and bio-technology fields.
The two sides are actively arranging for the first science-technology innovation forum between them.
They have also cooperated in areas like crop planting, the cultivation of livestock and aquatic product, and the research and development of agriculture technology. Latin America has become China's largest overseas farm produce supplier.
In 2013, the First China-Latin America and Caribbean Agricultural Ministers' Forum was held in Beijing, where attendees discussed ways of boosting cooperation in food safety, technology, trade and reciprocal investment.
Meanwhile, China has signed cultural agreements with 19 out of the 21 Latin American nations, set up 32 Confucius Institutes and 10 Confucius Classrooms in 14 countries in the region.
China established the first Chinese culture center in Mexico in 2013. Back in 2007, China hosted the First China-Latin America Friendship Forum -- an event which has been held four times till now, and Sept. 16 was set as the "China-Latin America Friendship Day."
The two sides have also held two China-Latin America and the Caribbean Think Tank Forums since 2010.
All the 21 countries in Latin America are tourist destinations of Chinese travelers, and the number of two-way travelers between China and Latin American nations amounted to 550,000 in 2013.
Background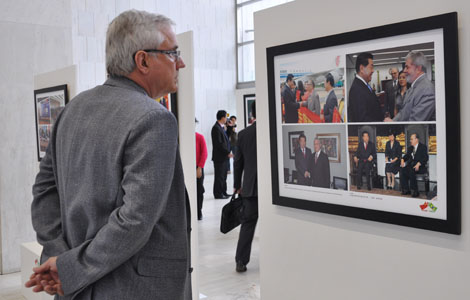 Feature