China, Brazil to team up on sports cooperation
Updated: 2014-07-14 14:55
By Zhao Shengnan (chinadaily.com.cn)
Comments
Print
Mail
Large
Medium
Small
China and Brazil will team up on a deal to strengthen sports cooperation during President Xi Jinping's visit to the country where soccer is a core part of the national heritage, Brazil's ambassador to China said.
The two countries shared "a lot of complementarities" in the regard, Valdemar Carneiro Leao told China Daily.
"You are very good at the traditional Olympic sports, like athletics, which are essentially individual sports, while we are stronger in collective sports. You have already had the experience of hosting the Olympic Games and we are going to host them in 2016. So there are things that we would like to learn from your experience," he said.
China hosted the Olympic Games in 2008, but has been absent from the FIFA World Cup for 12 years.
"Both countries have a lot to gain from such cooperation," said the ambassador, adding more exchanges and training programs may be carried out under the planned agreement.
Turning his attention to China's soccer team, Leao suggested more resources were needed and more foreign players should perhaps be introduced.
"I was really amazed to see how fast football is catching on in China. At this pace you will soon qualify for the World Cup. Why not the next one?" he said.
Background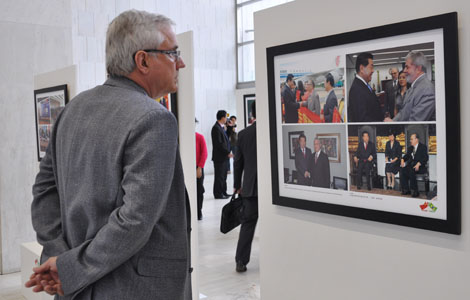 Feature