China, Brazil mark 40 years of big change and improving ties
Updated: 2014-06-14 07:37
By ZHANG FAN in Sao Paulo (China Daily Latin America)
Comments
Print
Mail
Large
Medium
Small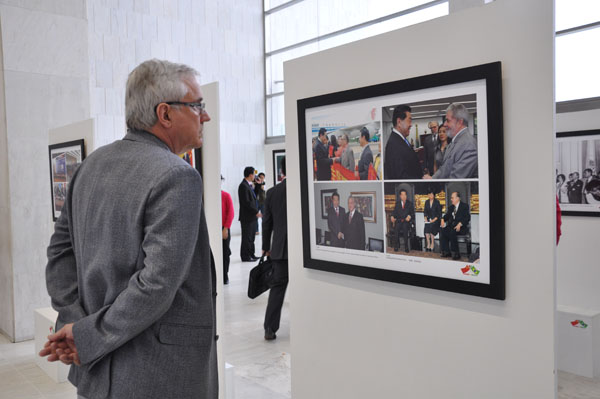 A visitor looks at photographs in the exhibition marking the 40th anniversary of the China-Brazil relationship on June 9. [Zhang Fan / China Daily]
China and Brazil have witnessed major changes in the past 40 years and the ties between the two countries are solid, stable and very close, said Chinese Ambassador Li Jinzhang in Sao Paulo.
"The bright future of China and Brazil relationship will continue to relay on the effort jointly made by overseas Chinese and local people. With the Chinese President Xi Jinping's coming visit to Brazil next month, I believe the cooperation of two countries in various aspects will be further advanced," said Li.
Li made his comments in an address at the opening ceremony for a photo exhibition marking the 40th anniversary of the China-Brazil relationship and one in a series of such celebrations in 2014.
Several hundred Brazilians and Chinese participated in the ceremony for the exhibition, which was hosted by China's General Consulate in Sao Paulo and co-hosted by the legislative assembly of the state of Sao Paulo.
More than 160 historical photos — provided by local news agencies and China's Xinhua news agency — show various aspects of relations between the two countries, from politics and economic to cultural exchanges.
The exhibition was welcomed by local people. "I am surprised to know that such ties have lasted for 40 years which is a very long time. I hope the two countries can learn more about each other's culture besides their economical cooperation," said Pedro Menezes Freitas, one of the exhibition's visitors.
He Yafei, the deputy director of the Overseas Chinese Affairs Office of the State Council of China, praised the contributions made by overseas Chinese in Brazil in advancing mutual understanding and friendship between the two countries. "The friendship among the peoples is the foundation of the relationship of two countries," said He.
The first Chinese came to Brazil about 200 years ago. Now more than 250,000 Chinese live in the country, with most of them in Sao Paulo, Brazil's commercial center.
"China will continue to provide all kinds of support to protect the legal interests of overseas Chinese and promote their long-term development in Brazil," said He.
The exhibition will go on a national tour of Brazil after its first stop in Sao Paulo, and last for one year.
"Photos are the most direct way to show the history of the China-Brazil relationship. We want to take this chance to present a more comprehensive image of such friendship," said Hu Ying, deputy consul general of China's General Consulate in Sao Paulo.
China and Brazil established formal diplomatic relationship in 1974. After years of development, the two countries established a strategic partnership in 1993, which evolved into a comprehensive strategic partnership in 2012.
China is now Brazil's largest trade partner with the bilateral trade reaching $90 billion in 2013. Brazil is also China's largest trade partner in Latin America with China's investments in various industries, including agriculture, energy and infrastructure.
"I think the China and Brazil relationship is excellent, especially in economic cooperation. We are both members of the BRICS and we meet very often. There are a number of aspects to further improve the current cooperation," said Fernando Mello Barreto, head of the Ministry of Foreign Affairs in Sao Paulo.
Barreto said he was amazed to see that China and Brazil can cooperate in so many fields from space to military and immigration, and such ties will "definitely continue to develop".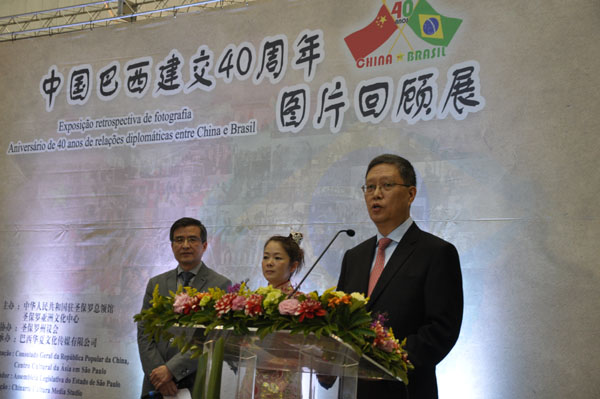 Deputy Director of the Overseas Chinese Affairs of the State Council of China He Yafei said on June 9 in Sao Paulo that China will continue to provide all kinds of support to protect the legal interests of overseas Chinese and promote their long-term development in Brazil. [Zhang Fan / China Daily]
fanzhang@chinadailyusa.com
Background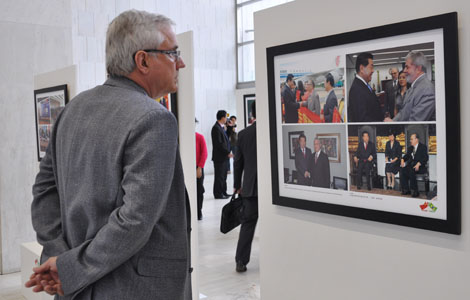 Feature