No alarm for US as China, Venezuela cement ties
Updated: 2014-07-21 10:30
(Xinhua)
Comments
Print
Mail
Large
Medium
Small
BEIJING - Chinese President Xi Jinping is traveling to Venezuela on Sunday, the third stop of his ongoing four-nation Latin America trip.
Just like always, voices of suspicion have emerged in the West, speculating the so-called "hidden agenda" behind the visits.
The case of Venezuela presents a particular concern for the United States, which sees the country as an eyesore in a region that it has repeatedly and disrespectfully called its "backyard."
For years, Venezuela has, along with several other countries, played as a major anti-US force in Latin America by publicly defying Uncle Sam's long-standing dominance in the region, especially under the leadership of late Venezuelan President Hugo Chavez.
However, it is unwise and regrettable for the United States to reckon that China, with its expanding engagement with Venezuela, is harboring the intention to instigate the country's confrontation with Washington or to fan up the flames of anti-US sentiment across the continent.
Indeed, a major theme of Xi's Latin America tour is to prompt fellow developing countries to join hands with China and collectively strive for a fairer and more rational new international order, as manifested by the creation of a new development bank by the emerging-market bloc of BRICS.
Such effort is long-awaited and highly merited, as it not only reflects a changing international landscape which heralds the rise of the developing nations, but also conforms to the will and aspiration of billions of people across the developing world. It is not, as some have warned, aimed at containing the United States or encroaching upon its interests.
When it comes to Venezuela, Washington should be well reminded that China's relations with the country, built on the basis of equality and mutual benefit, are not aimed at any third party and do not affect any other country's relationship with the Latin America nation and the region at large.
What China and Venezuela have enjoyed over the past four decades is an exemplary model of win-win ties between two developing countries, underpinned by highly complementary economies and intertwined interests.
Overcoming tremendous geographic distance, the two countries have become close friends with their ties striding forward in leaps and bounds. But more importantly, such deep friendship has been translated into practical cooperation in a wide range of fields, bringing about tangible economic and social benefits to both peoples.
For China, Venezuela is a major energy supplier as well as an important destination of overseas investment. For Venezuela, China is a crucial source of expertise on infrastructure development, cutting-edge technologies as well as an inspiration for social development.
As Venezuelan Vice-Foreign Minister Xoan Noya has told Xinhua, China has helped transform the lives of millions in the country.
To build upon such momentum, Xi's visit is expected to further consolidate bilateral ties and deepen win-win cooperation.
On a regional scale, an increasingly closer China-Venezuela partnership has become a significant driving force for regional economic growth and helped improved social stability.
Therefore it is advisable that the United States, as another close partner of the region, discard its long-held prejudicial stance against China and embrace a more stable and prosperous Latin America.
Chinese president arrives in Venezuela for state visit
China Development Bank opens office in Venezuela
Background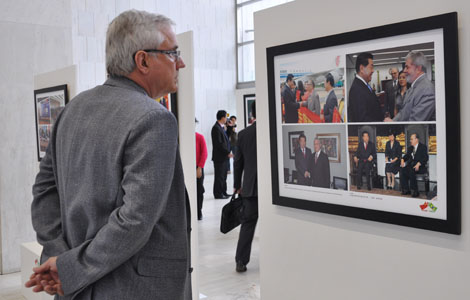 Feature