Premier in plea to Asia, Europe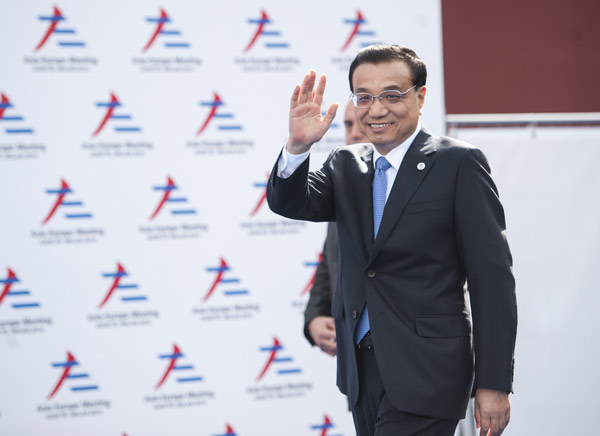 Premier Li Keqiang arrives at the Asia-Europe Meeting in Milan, Italy, on Thursday. He said at the opening of the event that trade protectionism should be rejected. Xu Nizhi / Xinhua
Premier Li Keqiang called on Thursday for Asian and European leaders to step up efforts to upgrade economic cooperation and connectivity to put exchanges between the two continents on a firmer footing.
"China's door is always open and will only open wider to the world," he told more than 40 Asian and European government leaders during the Asia-Europe Meeting in Milan.
Li said China is committed to promoting an open world economy and an integrated global market, and to opposing any kind of protectionism, adding that there is huge potential for cooperation between Asia and Europe.
"China is willing to join infrastructure construction with other Asian and European countries to improve the network connecting the two continents," he said.
The ASEM, founded in 1996, is a high-level, large-scale intergovernmental platform for dialogue and cooperation between the two continents.
The two-day Milan summit will formally accept Kazakhstan and Croatia as members, making the ASEM a 53-member forum with enhanced influence.
Leaders discussed how to promote interconnectivity between the two continents, including air, sea and land links and also connectivity in the flow of goods, services, investments and people.
Experts said China hopes that Asia and Europe will promote interconnectivity, strengthen mutual trust and reach agreements on climate change, terrorism, epidemics and other global issues.
"The ASEM summit offers a good opportunity to promote the Silk Road Economic Belt and 21st Century Maritime Silk Road concepts for cooperation between Asia and Europe," said Cui Hongjian, director of the Department of European Studies at the China Institute of International Studies.
Giovanni Andornino, an assistant professor of East Asia international relations at the University of Turin, said gatherings like the ASEM are useful for staging multilateral plenary sessions among leaders, and the Milan meeting is "very valuable".
"Many technical-level dialogues can be conducted under this umbrella, and Europe should grab this opportunity to show why it is valuable for Asian countries to have relationships with Europe," he said.
Andornino said both continents have great potential for increasing connections between them. But one of the main challenges for the meeting is friction among the members, with several countries having complicated bilateral relations.
Andornino also said that unless Europe is committed to giving the ASEM a future and to pursuing ambitious policies, then the ASEM will have no significance.
"But there is the possibility of creating value, which is significant for all the players involved, and this is always a good strategy," he said.
Before attending the summit, Li met European Council President Herman van Rompuy and European Commission President Jose Manuel Barroso on Wednesday.
Both sides pledged to speed up their investment treaty negotiations to improve bilateral economic ties and settle trade frictions.
Andornino said he is looking forward to next year, which marks the 30th anniversary of China-EU diplomatic relations.