Summit offers platform for 'strong impact'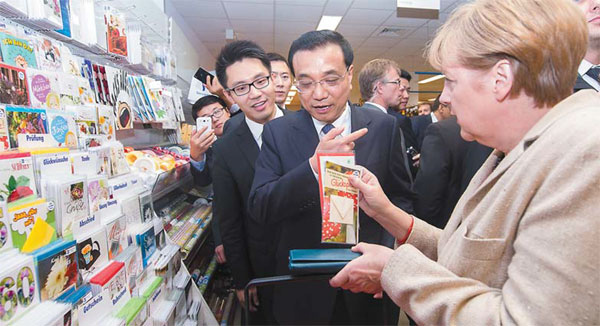 Premier Li Keqiang and German Chancellor Angela Merkel examine greeting cards in a Berlin supermarket on Friday. [Photo/Xinhua]
Conference in Germany puts Sino-European ties in spotlight
The Hamburg Summit on Friday and Saturday takes place at a strategically important time, as Premier Li Keqiang delivers the keynote speech on the second day and relations between China and Europe are closer than ever.
The biennial high-level conference on Sino-European economic relations held in Hamburg, Germany, is hosting Li for the first time as it celebrates its sixth meeting in 10 years.
At the summit, Li is expected to elaborate on China's domestic economic situation and the central government's decisions and strategies for additional reform and opening-up. It is also anticipated that Li will offer proposals for further development of China-European Union relations.
More than 500 political and business leaders, including a Chinese delegation of more than 70, are expected at the summit, the biggest Sino-European business meeting.
"The Hamburg Summit always has a very strong impact. It has very high visibility. I am expecting that Li's personal visit to Hamburg will give another upgrade to the event," said Stefan Matz, director of the international department at HWF Hamburg Business Development Corp, which offers a comprehensive service package for companies that intend to locate in the Hamburg metropolitan region.
"I think everybody has very high expectations of Li," said Matz.
German business leaders have said they think Li's speech at the summit will give Europeans more detailed insights into Chinese governmental policies, especially those related to reform and economic transformation, and also make clearer the opportunities available to European companies in the coming years.
"The sixth Hamburg Summit will be held almost a year after the Third Plenum of the Chinese Communist Party and the announcement of the huge reform package," noted Jens Assmann, deputy director of the international department at the Hamburg Chamber of Commerce.
In the past 10 years, many Chinese state leaders have attended the summit to promote and emphasize the importance of Sino-German and China-EU political and economic exchanges and cooperation.
The summit was a joint initiative of former German chancellor Helmut Schmidt, the mayor of Hamburg and the Hamburg Chamber of Commerce in 2004 to intensify the economic and political dialogue between Europe and China and improve their economic relationship.
The summit is also considered a platform to attract more Chinese investment and promote two-way trade.
Hamburg has been an important center for Chinese businesses in Europe, Assmann said. The city is host to more than 500 Chinese companies, including COSCO, China Shipping and Baosteel, as well as many small and medium-sized companies.
Hamburg's port is the major hub for Chinese-European container traffic. "Every third container in Hamburg is handled with China. A lot of these imports to Europe are destined to the Baltic Sea region, to Central and Eastern Europe, as well as to all other parts of Europe," Assmann said.
Matz said he believes there is still huge potential for trade in both directions.
A major part of trade by Chinese-German businesses is handled by the Hamburg port, the city of Hamburg and companies based in Hamburg.
"On the other hand, there is also a very strong use of Hamburg to penetrate into different markets from the Chinese side," Matz said.
zhangchunyan@chinadaily.com.cn