Firm finds tools for success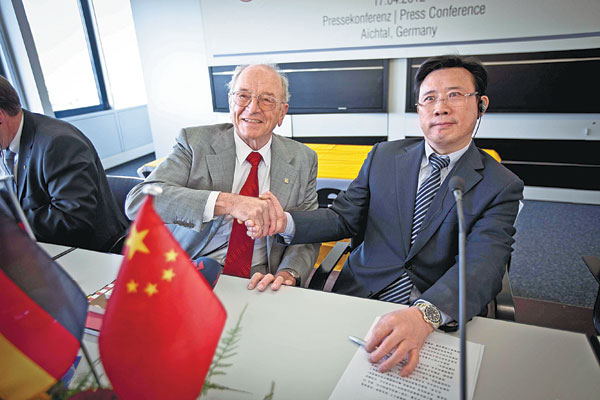 Liang Wengen, president of Sany Group, and Karl Schlecht, founder of Putzmeister, as they announced the Chinese company's acquisition of the global concrete machinery enterprise in 2012. Provided to China Daily


Sany Germany, an arm of the Chinese machinery giant, has found A formula for success in a sophisticated and challenging market
An old hand in the machinery industry for more than 20 years, Bart Decroos now works as the managing director of Sany Germany, the German arm of Chinese construction machine giant Sany Group.
A man with a ready smile, Decroos has a lot of experience in guiding a Chinese company as it ventures into the competitive European market.
Sany Germany's parent company is one of the first Chinese companies to enter, evolve and thrive in the advanced German market.
Sany Germany has carved an important niche for itself since it first arrived in 2008, growing exponentially, developing, producing and distributing mobile port machinery and other construction and lifting equipment to customers in Europe and surrounding markets.
In 2012, Sany Group announced it had bought German concrete pump maker Putzmeister for about $470 million, the largest direct investment a Chinese company has made in the country.
There are synergies being exploited with the purchase, but it is the company's clear mandate to run the concrete machinery business separately. The association with a world-class brand like Putzmeister helps Sany a great deal outside China.
Sany's success is a recent example of Chinese companies gaining ground and reputation in Germany and also in other parts of Europe step by step.
Several years ago, Chinese investment in Germany caused concern locally, and there was talk of a "Chinese invasion" and that "China is buying up Germany".
Some German owners feared that Chinese buyers would dismantle their companies and cut or transfer jobs to China. The German industrial sector employs a significant share of the country's 42 million workers and yields technological know-how in specialized niches such as machine building, solar power, and automotive supply.
However, in recent years, as Chinese companies develop well locally, Germany's attitude toward Chinese investment has changed.
"Facts have proved that Chinese companies that invest in Germany are not looking for a one-off deal, and they are not there to steal technology. They are committed to long-term development in Germany in order to expand global business," the Chinese ambassador to Germany, Shi Mingde, says.
Chinese investment in Germany has been beneficial for German jobs and the economy, Shi says.
Company officials say localization is crucial for Sany's development in Germany.
"Every market is unique," Decroos says. "It is essential to understand the specifics of each market. The European market is especially complex and demanding in terms of legal requirements, customer expectations on product reliability, durability and flexibility, and after-sales support is particularly important. Without understanding and addressing these, any venture into the European market will be a short and unsuccessful one.
"Sany Germany is the daughter company of a Chinese company but is itself a completely European company. The company's operational management team is entirely European and we do business in a European way, fully compliant with all legal and ethical requirements and customer expectations."
Sany also localized its workforce. Previously, more than half its employees were Chinese, but now about 80 percent of its workers are European.
Other Chinese companies like Huawei, the leading global information and communications technology provider, have had the same experience as Sany.
Since it began operating in Germany in 2001, Huawei has been the biggest Chinese company in the country, says Patrick Berger, communications manager of Huawei Germany.
Most of Huawei's employees in Germany and other parts of Europe are from those areas. Localization of jobs earns it wider recognition, company officials say.
With its advantage in providing innovative and customized products and services, the Chinese company works closely with local telecommunication operators and has achieved remarkable success, benefiting both the firm and German society, company officials say.
In June, Huawei received the NRW. invest Award in the western German city of Duesseldorf for its outstanding investments in the state of North Rhine-Westphalia.
Shi says Chinese companies that want to gain a strong foothold in foreign enterprises need to be familiar with local regulations and policies, understand the local cultural traditions and customs, learn to deal with local government agencies and local people, and adapt to the enterprise culture and public opinion.
Decroos says the main challenge for many companies is the misperception of European customers about products made with Chinese investment. While far more than half of all appliances in an average household in Europe are made in China, and consumers when questioned do not care much about their origin, but there is still resistance toward Chinese goods.
"Sany Europe is overcoming this resistance by locally developing products with local components by local experts and offering these through first-class dealers. In this way, we are actually more European than several other players in the industries we cover."
Industry insiders believe that as more and more Chinese companies go abroad, Germany will remain one of the top choices for their investments because of its wealth of engineering talent and premium technology.
China is eager for technology to help it clean up the environment and compete in high-end manufacturing areas where Germany excels.
Last year, Chinese investors completed 120 mergers and acquisitions in Europe, which is a record, between which Germany and Britain tied for first, each with 25.
According to Shi, last year China's non-financial investments in Germany reached $830 million, an increase of 28.8 percent. China has become the sixth largest investor in Germany, after the United States, Britain, France, Switzerland and Austria.
"From this we can see that the numbers of Chinese companies investing in Germany has gained momentum," Shi says.
"At the same time, the quality of Chinese enterprises investing in Germany is also rising. More and more Chinese enterprises are entering the German high-tech market and investing in high-value-added products," Shi says.
With more Chinese players in Germany, companies are realizing they must take time to find an ideal strategy to operate and develop smoothly.
Sany Germany is already a localized company with a clear direction: to be a respected, preferred and long-term partner to customers in the earth-moving, lifting and container-handling industries, Decroos says.
"We are well underway to achieving these targets and providing a business model for Sany to be a successful global company.
"In Europe, the only way to succeed is to do things step by step and in the right order. It takes patience and commitment to invest the time and effort needed to sow, but there is no other way to reap."
Zhang Kexin and Carolynn Look contributed to this story.
zhangchunyan@chinadaily.com.cn
(China Daily European Weekly 10/10/2014 page7)