China goes Italian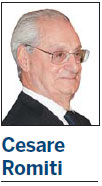 Premier Li Keqiang is arriving in Italy as the country has experienced its largest wave of Chinese investment, a development that has benefited both countries
Italy has witnessed what is likely the largest value and the most significant wave ever of Chinese investments in its key strategic industries and companies, which has made "China Inc" the second-largest investor on the Milan Stock Exchange.
Prior to this, by the end of 2013, the Italy China Foundation's Research Center had tracked 94 investor groups in Italy with Chinese involvement participating in 184 Italian enterprises, accounting for over 7,000 employees and almost 3 billion euro ($3.8 billion) of turnover.
This year, Italy received foreign direct investments coming from the largest state-owned enterprises in China at a local and central level, like Shanghai Electric's 400 billion euro investment in Ansaldo Energia and China State Grid's 35 percent investment in Italian energy grid holding company CDP Reti. But it also received portfolio investments from China's main financial institutions like the State Administration of Foreign Exchange and the People's Bank of China in Italy's largest stock-listed enterprises like Fiat (automotive), Enel (utilities) and Eni (energy), Prysmian Group and Telecom (telecommunications). Large investments are also coming from China's dynamic private companies into Italy's manufacturing sector, like Wanbao Group's acquisition of ACC Compressors.
The motivations that have made 2014 one of the most positive years have to do with a series of factors. For one, many investments in 2012 and 2013 (during Italy's sovereign debt crisis) did not get final approval and were thus postponed to better times.
Most of the investments in 2014 involve a high degree of politics they are a direct outcome of Italian and Chinese political diplomacy with the Italian government hinting at more privatizations.
Italy today is in a period of comparative political stability and has been struggling to ameliorate its own business environment to attract foreign investments and kick-start the domestic economy. Interestingly, however, according to our empirical research, some Chinese companies may decide to start to invest in Italy because they maintain that Italy is a sophisticated and difficult market and thus a testing terrain for future investments in Europe and the West.
Another reason is that there are many cheap opportunities for China to upgrade its manufacturing by tapping into Italy's ailing industrial sector, and there are many low risk, high yield opportunities for investors in top-listed companies on the Milan Stock Exchange.
Finally, the crisis told us that the most internationalized companies are those that have better weathered the crisis and there are enormous growth margins for many Italian companies to expand overseas and in China.
Thus, Chinese investors are perceived by Italian companies not only as cash rich but also as providing assistance in designing and implementing an effective China strategy.
During Italy's 2012 sovereign debt crisis, China kept a low profile, making it unclear whether it had actually bought Italian public debt. Yet, such high profile investments lend support to those claiming that China is conducting a "charm offensive in Italy".
The public equity investments were - probably deliberately - over the 2 percent threshold prompting the stock exchange regulator to publicly announce the transaction. It's as if China wanted to communicate it was in some ways providing a helping hand to our country, sending a message of friendship and power.
Italy badly needs foreign investments from China and more can be done. For example, we are looking into the opportunity for Italy to create a private equity fund with the Chinese government to foster bilateral investment flows toward Italian and Chinese small and medium-sized businesses. Smaller companies are having more difficulties raising funds from the banking system.
Also, we believe that Italy, like other Mediterranean countries, should lure Chinese investors by providing residency rights.
I believe that Chinese Premier Li Keqiang, who is set to pay an official visit to Italy in mid-October, will ride this wave of Chinese investments in Italy, proving to the Italian public and policymakers that China is indeed a strategic partner for Italy that should not raise fears, but quite the opposite, be hailed as a savior during bitter times.
Li is scheduled to be in Italy to attend the Asia Europe Meeting Summit. And Milan, Italy's industrial and financial center, which attracts the largest investment flows from China, will be center stage for other China-linked events.
A tenth edition of the Global China Business Meeting - a platform of discussion between Italian, European and Chinese entrepreneurs and managers - will be held on Oct 13-14 not far from Milan on Lake Como. The ASEM Business Forum will convene in Milan at Assolombarda, the local association of industry, on Oct 15. Li is scheduled to be at Milan's Politecnico University for the Fifth China-Italy Innovation Forum, where several agreements between Italian and Chinese parties will be signed. Finally, the Italy China Foundation will match top Italian and Chinese enterprises in the pharmaceutical industry in cooperation with the Chinese Embassy, the Italian national pharmaceutical industry association and the Italian Trade Agency.
Milan will continue to capture China's attention for the next several years. The city will be center stage in 2015 for the World Expo, devoted to issues concerning food security and safety; football fans are looking forward to reserving their seats at Milan's San Siro Stadium for the 2016 European Champions' League final. We know that many of these fans will be Chinese.
The author is president of Italy China Foundation.