Obama departs for APEC meeting, China visit
Updated: 2014-11-09 17:01
(Xinhua)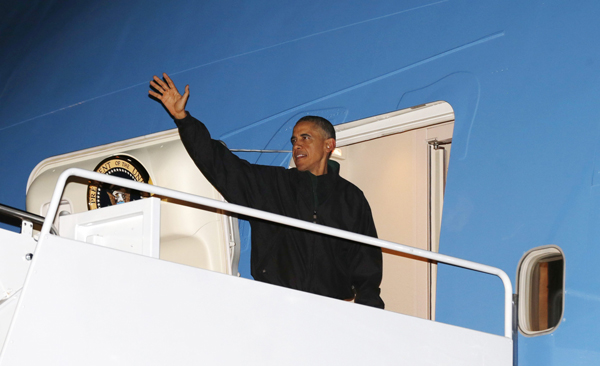 US President Barack Obama boards Air Force One at Joint Base Andrews as he departs Washington for China, Nov 9, 2014. [Photo/Agencies]
WASHINGTON - US President Barack Obama departed Washington early Sunday for Beijing, China, where he will attend the Asia-Pacific Economic Cooperation (APEC) gathering and pay a state visit to China.
About one hour after midnight, Obama took a helicopter ride aboard the Marine One from the White House to the Joint Base Andrews in Maryland, where he boarded the Air Force One, according to US officials.
Chinese Foreign Ministry spokesman Qin Gang announced on Monday that at the invitation of Chinese President Xi Jinping, Obama will pay a state visit to China and attend the 22nd Asia-Pacific Economic Cooperation (APEC) Economic Leaders' Meeting in Beijing from Nov 10 to 12.
Qin said the leaders of the two countries will exchange views on Sino-US relations as well as major international and regional issues of common concern.
The White House said that after his China trip, Obama is scheduled to fly to Nay Pyi Taw, Myanmar for the East Asia Summit and the US-ASEAN Summit.
Obama will then travel to Brisbane, Australia, on Saturday, for the Group 20 summit, it said.