China, Myanmar affirm 2-way commitment
Updated: 2014-11-09 07:44
By WU JIAO/ZHANG YUNBI (China Daily)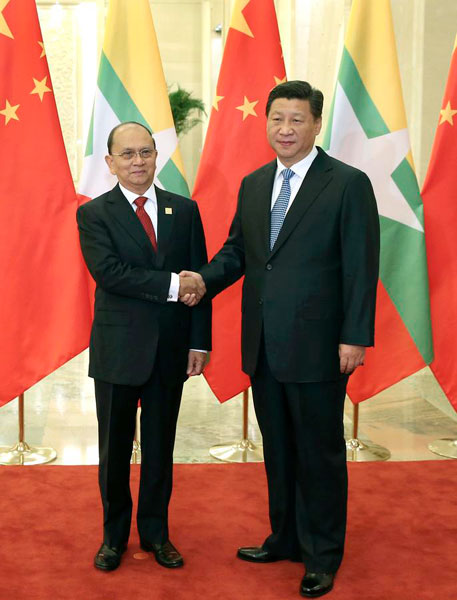 President Xi Jinping meets Myanmar President U Thein Sein in Beijing, Nov 8, 2014. [Photo/Xinhua]
China and Myanmar reaffirmed their commitment to advance bilateral ties and collaboration in large infrastructure projects on Saturday against the backdrop of difficulties faced by several Chinese-invested projects in recent years.
That was the message sent as Chinese leaders met Myanmar President U Thein Sein, who is in Beijing to attend a dialogue China is holding with several neighboring countries on connectivity partnerships.
Connectivity projects, special economic zones and public livelihood improvement are among the major items China has on the cooperation agenda, President Xi Jinping told his Myanmar counterpart.
Some Chinese investment projects have met with public opposition in Myanmar in recent years. The political and social transformation Myanmar is undergoing has also led to different views within the country on foreign and domestic policies, casting a shadow on long-standing ties with its neighbor. During the meeting, Xi said the two countries are at a critical stage of development and should advance their ties from "a strategic and long-term view". Xi also said he hopes the two countries-which share a long border-press ahead with projects "in resonance with the building of the Silk Road Economic Belt and the 21st-Century Maritime Silk Road", the two strategic connectivity initiatives proposed by China last year.
During a separate meeting with Thein Sein, Premier Li Keqiang-who will pay an official visit to Myanmar and attend a regional forum there next week-said he will try to push forward several connectivity projects, in particular an economic corridor that will thread China, Myanmar, India and Bangladesh.
Thein Sein said Myanmar appreciates and supports Beijing hosting the dialogue on connectivity, and believes that "the conference will surely boost the common development" of stakeholders.
He said Myanmar cherishes friendship with China, and is ready to push for new development in ties. He promised that Myanmar will protect the interests of foreign investors, including those from China.
China is Myanmar's largest trading partner, its second export market and its primary source of imports.
Bilateral trade volume reached $10.15 billion in 2013, a tenfold increase over the past decade, but Chinese investment in Myanmar dropped in 2013 compared with the previous year.
Zhao Gancheng, director of South Asia Studies at the Shanghai Institute for International Studies, said as Myanmar undergoes transition the country is "poised to rebuild its influence in the international community", and it hopes for support and assistance from all major countries, including China.
Xi, referring to a cease-fire between Myanmar and rebels in the north of the country, said China hopes the area "achieves lasting peace" through peace talks.
Rapid development of Myanmar's economy and social stability "are of great interest to China and the two-way relationship", said Li Chenyang, director of the Institute of Southeast Asian Studies at Yunnan University.
Despite the suspension of some Chinese projects in Myanmar, "China's supportive policy toward the country is helpful to its modernization process, and there is great space for further cooperation," Zhao said.