President Xi meets with Mongolian president in Beijing
Updated: 2014-11-08 19:24
(Xinhua)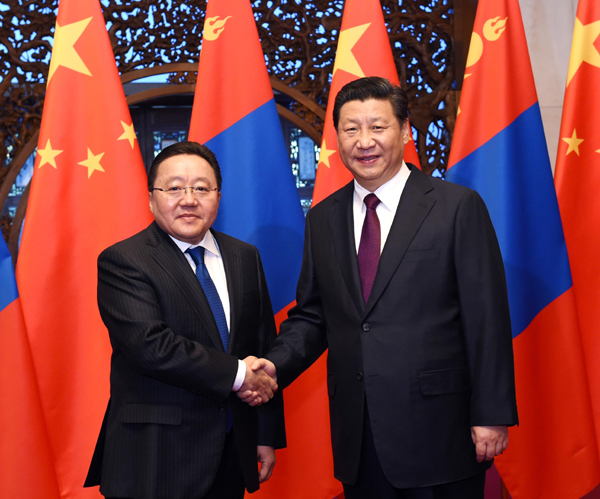 Chinese President Xi Jinping (R) shakes hands with Mongolian President Tsakhiagiin Elbegdorj in Beijing, capital of China, Nov 8, 2014. [Photo/Xinhua]
BEIJING - Chinese President Xi Jinping voiced support for Mongolia to join the Asia-Pacific Economic Cooperation (APEC) during a meeting with Mongolian President Tsakhiagiin Elbegdorj on Saturday.
China welcomes Mongolia's entry into the Asian Infrastructure Investment Bank (AIIB) and backs its participation in international and regional affairs, including joining the APEC, Xi said.
China is also willing to work with Mongolia and Russia to build the economic corridor linking the three countries, he said.
Xi visited Mongolia in August and the two countries upgraded their bilateral ties to a comprehensive strategic partnership.
"I would like to keep a close contact with you. Legislatures, governments, parties, armed forces and civilian sectors of the two countries should enhance exchanges and cooperation," Xi said.
China and Mongolia should sign the free trade treaty "as early as possible" and speed up the program to build a cross-border economic cooperation zone, he said.
Xi noted that the primary cooperation areas should involve connectivity development, mining, power and agriculture.
Tsakhiagiin Elbegdorj, who has met Xi for five times this year, said that Mongolia would like to push forward major cooperation programs in railway, mining and energy as well as cultural and people-to-people exchanges.
Mongolia expects to strengthen the three-party cooperation with China and Russia, he said.
The Mongolian president is in Beijing for a dialogue on strengthening connectivity partnership on Saturday, which is also attended by leaders from Bangladesh, Cambodia, Laos, Myanmar, Pakistan and Tajikistan.