Putin says APEC builds region's 'mutual respect'
Updated: 2014-11-07 08:58
(chinadaily.com.cn)
Editor's note: Russian President Vladimir Putin gave an interview to the leading Chinese media outlets in the runup to his visit to the People's Republic of China, where he will take part in the 2014 Asia-Pacific Economic Cooperation leaders' meeting.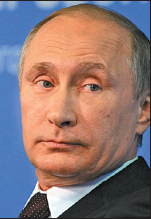 The APEC event will be held in Beijing soon. How does Russia estimate the role of this association? What does the Russian side expect from this meeting? In your opinion, how can Russia and China consolidate their cooperation within the framework of this forum, contributing to peace, stability and prosperity of the Asia-Pacific region?
PRESIDENT VLADIMIR PUTIN: APEC's progressive development during a quarter of a century has persuasively demonstrated the relevance of this authoritative association format, a platform to agree upon common "rules of the game" in the trade and economic sphere in the Asia-Pacific region.
It is worth noting that all the decisions reached within the framework of the forum are adopted on the basis of the principles of mutual respect and accommodation of the interests of each other, which reflects the spirit of APEC.
Under the current conditions, when some countries prefer to act in the international arena using the methods of political, economic and often even coercive pressure, the role of APEC as an effective coordinating mechanism for building a new regional architecture is indispensable.
Russia actively participates in APEC activities.
The next meeting of the APEC leaders, on Nov 10 and 11 in Beijing, will definitely be one of the key Asia-Pacific region events of this year. As host of APEC in 2014, China has prepared a huge package of initiatives.
For example, a road map toward an Asia-Pacific free trade zone is to be adopted. A plan providing specific measures aimed at promoting comprehensive coherence of the region, innovative development and structural reforms has been elaborated upon.
We intend to pursue our traditionally close, constructive cooperation with President of the People's Republic of China Xi Jinping during future discussions, including in the implementation of the summit decisions.
I am convinced that the APEC Economic Leaders' Meeting in Beijing will make a great contribution to the further consolidation of an equal and mutually beneficial partnership in the region.
What is your assessment of the progress of the Russian-Chinese ties at this stage? What steps are Russia ready to take in order to deepen its comprehensive strategic cooperation and partnership with China?
Strengthening ties with the PRC is a foreign policy priority of Russia. Today, our relations have reached the highest level of comprehensive, equitable, trust-based partnership and strategic interaction in their entire history.
Russian-Chinese relations have become a crucial factor in accommodating the foreign policy interests of the two countries in the 21st century, playing a significant role in establishing a just, harmonious and safe world order. At the same time, our bilateral ties hold great potential for further progressive development.
I would like to emphasize that today our countries face similar tasks. First of all, we need to upgrade infrastructure and promote high technology sectors.
We also share many sectoral priorities, such as energy conservation and energy efficiency, development of new information technologies, transport, nuclear energy, outer space, environmental protection, and production of modern drugs and medical equipment.
We have considerably enhanced our cooperation in the energy sector. We have built and put into operation an oil pipeline from Russia to China and concluded agreements providing for the increase in crude oil supplies. In accordance with our previous agreements, our export of energy resources to China has grown and joint activities aimed at exploring and extracting crude oil and coal in Russia have been under-taken.
Construction of a large joint oil refinery plant has been launched in China. Projects relating to the peaceful use of nuclear energy are being successfully implemented.
An obvious breakthrough was made this year by concluding an ambitious natural gas agreement.
This is the largest long-term agreement in the history of bilateral relations and global trade in general. Furthermore, we have reached understanding in principle concerning the opening of the western route.
We have already agreed on many technical and commercial aspects of this project, laying a good basis for reaching final arrangements.
As Russia and China are countries with rich traditions and distinct cultures, humanitarian ties are of special significance for them.
Both 2014 and 2015 are seeing a new ambitious interstate project, the Years of Friendly Youth Exchanges, between Russia and China. Its program includes about 600 events in total.