Charming seaside city sparkles
Updated: 2014-05-17 07:33
By Xie Chuanjiao (China Daily)

Attractions, laidback lifestyle and int'l feel welcome visitors
Qingdao has been renowned as a tourist destination and health resort since the 1920s.
Its sandy beaches, European style architecture, well-preserved heritage and sacred Laoshan Mountains overlooking the sea have long attracted tourists from across the globe.
Now one of China's major ports with a population of about 8 million, the city is reputed to be one of the nicest places in the country to live and visit.
"Qingdao is an internationally oriented city with an abundance of attractions and sophisticated tourism industry," said the city's vice-mayor Liu Mingjun.
A total of 62 million tourists visited Qingdao last year, generating 93 billion yuan ($14.93 billion) in tourism revenue.
During the International Workers' Day holiday in May this year, the city welcomed 3.3 million visitors, up 25.2 percent from the same period last year.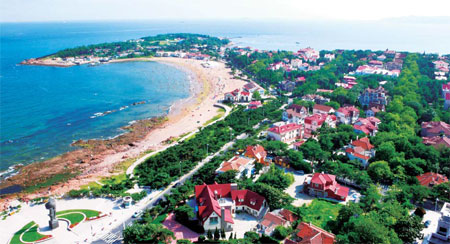 Filled with year-round greenery, Badaguan area is the perfect destination to get a feel for Qingdao's century-old history, German influence and European architectural gems. Photos Provided to China Daily
Badaguan and European buildings
Well known for its garden villas and historic western-style buildings, the Badaguan scenic area has been dubbed a "world expo of architecture".
With year-round blossoms and greenery, it is a popular place to take a stroll or drive. Built during the German concession, it is testimony to Qingdao's century-old evolution.
Nearby is one of Qingdao's most spectacular German buildings - the former governor's residence on the edge of Signal Hill Park. Built in 1903 the building is in the typical style of an ancient Bavarian castle.
The former German governor felt he deserved the utmost luxury, but when Kaiser Wilhelm II saw the excessive bill, the governor was immediately sacked. It is now a museum open to visitors.
East Urban Sightseeing Belt
Near May Wind Square, the new town in the east is Qingdao's political, economic and cultural center. Dozens of landmark squares, parks, theaters, marinas, golf courses and resorts dot the area along with numerous skyscrapers that create an attractive seaside landscape.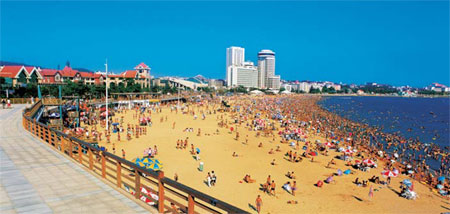 The largest in Asia, Qingdao's No1 Beach is a favored spot for visitors and locals to cool off in the summer.

Largest beach
Recognized as the largest sandy beach in Asia and the best in Qingdao, the No 1 Bathing Beach boasts soft sand and clear water.
The beach, located by Huiquan Bay, is surrounded by green mountains and has tourist services such as lockers and restaurants.
During the hottest months, from July to September, the beach, which has room for about 200,000 people, fills with visitors.
Laoshan National Park
As one of the highest mountains along China's 18,000-km coastline, the main Laoshan peak reaches 1,133 meters above sea level.
With a spectacular ocean view the mountain is famous for Taoism and historic temples. During the summer, water runs through the mountain creeks and visitors relax in the tranquil forest.
Qingdao International Beer Festival
Qingdao is home to one of the country's first breweries and China's most valuable beer brand, Tsingtao.
The brewery hosts the Qingdao International Beer Festival every year, which is the largest of its kind in Asia.
The festival was recognized as one of China's top 10 festivities by the Asia Events Fortune Forum.
Last August's eight-day festival saw more than 2 million tourists join in the fun and drink more than 600 tons of beer.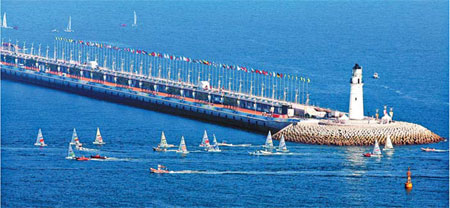 Qingdao is becoming Asia's premier sailing destination with several international sailing events taking place in the city. Hao Guoying / for China Daily
Maritime sports
Qingdao has become China's capital of sailing and has a thriving water sports industry. It has been a host port for several world-class sailing events including the 2008 Olympic Games, the Clipper Round the World Race and the Volvo Ocean Race.
The International Olympic Sailing Center gives visitors the chance to see top-notch international sailing and an array of luxury yachts.
Food and beverage
Pichaiyuan is an area where visitors can taste a range of traditional local specialties including fried dumplings, tofu jelly and shrimp wontons. On Zhongshan Road, in Shinan district, a courtyard boasts 40 restaurants to dine at.
Qingdao Beer Street, in Dengzhou Road in Shibei district, has more than 50 bars and eateries and is easy to spot as it is painted green.
Zhonglian Creative Square in Nanjing Road is also a popular area with rooftop bars connected by bridges and clear-glass lifts.
Livability and business environment
The coastal city was ranked first on the list of happiest cities in China, with a score of 96.18 in 2013, according to the China Institute of City Competitiveness.
Qingdao's GDP per capita reached $14,000 last year, almost the same level as high-income countries. Its economy has distinctive characteristics and is particularly strong in port, marine industries and tourism.
International travelers are attracted to the city because of its easy-going atmosphere, infrastructure and convenient services.
Flights of about an hour connect Qingdao to places like Beijing, Shanghai, Tokyo and Seoul.
The city has 145 star-rated hotels and 11 five-star hotels, which have hosted top executives, world leaders and celebrities.
International stores such as Tesco, Wal-Mart, Metro, Parkson, Aeon and Seven-eleven offer familiar products to foreigners.
The city has nine schools for the children of expatriates and foreign medical services, including United Family Healthcare from the United States, are available.
xiechuanjiao@chinadaily.com.cn