APEC gathering puts spotlight on growing port city
Updated: 2014-02-28 07:24
By Zhuan Ti (China Daily)
A prelude to this year's Asia-Pacific Economic Cooperation summit, the ongoing first APEC senior officials' meeting has put the host city Ningbo in the limelight.
The coastal city in East China's Zhejiang province, which was named one of the best investment destinations in China in 2013, has long been known for its dynamic private economy.
Government data show that more than 160,000 private businesses were running in the city in 2013. Of them, 21 ranked among the top 500 private Chinese companies last year.
The private sector contributes nearly 80 percent of Ningbo's GDP and creates some 85 percent of the jobs in the city.
Thanks to their "good faith, pragmatic attitude, open mind and innovative approach", Ningbo people have built the city into a key production center in the country over the past 30 years, especially in such sectors as garment, stationery, presses, molds and home appliance, local officials said.
Now half of China's total output value generated by the clothing industry comes from the city, enabling it to become one of the major global production bases for men's apparel.
Ningbo also creates one-fourth of the country's stationery output value and accounts for one-third of the country's small household appliances.
Also, it contributes some one-third of the country's pressing machine output value and thus is recognized as China's home of presses. Cixi, Beilun and Ninghai, parts of the city, are all known nationally as powerhouses for producing industrial molds.
The heavy business-friendly atmosphere partially originated from a local tradition of entrepreneurship that has roots in China's ancient history.
Ningbo has been the site of many historical events. For instance, it was the birthplace of the first Chinese bank, and the first privately run Chinese shipping company was founded there.
Currently, approximately 1.4 million people are involved in foreign trade or export-oriented manufacturing businesses. One out of every four local residents is involved in foreign trade.
They enjoy a series of favorable policies that the central government has designed for the city.
As early as in 1984, Ningbo was designated as one of first 14 cities on the Chinese mainland to have its economy opened to global trade, and a national economic and technological development zone was founded in the city.
Later, the establishment of facilities to advance foreign trade, including an export-oriented processing zone and a bonded logistics park, further integrated the city into the global system and put the local economy on the fast track.
Also, the Port of Ningbo is a major contributor to trade and growth.
Once the start of the ancient maritime Silk Road, Ningbo was one of four waterway hubs in the Tang Dynasty (AD 618-907) and remained as one of three international trade ports during the Song (960-1279) and Yuan (1271-1368) dynasties.
Nowadays, the modern port has more than 320 berths, including 92 deep-water ones that each can accommodate vessels with capacities of up to 10,000 tons.
It has opened routes to some 600 ports in more than 100 countries and regions, making it a key link in ocean freight.
Its yearly throughput of shipments surpassed 496 million tons in 2013, enabling it to rank among the four largest ports globally and take the third position on the Chinese mainland.
With more than 16.77 million containers handled last year, Ningbo was listed among the largest six container ports worldwide and ranked third on the mainland.
The city government has decided to make full use of the port and mapped out a maritime economy development blueprint, which prioritizes the growth of shipping services, advanced manufacturing, emerging marine industry and island resource development.
As Zhejiang province's maritime economy development was upgraded to a national strategy in 2011, the move gave Ningbo a new lease of life.
It is set to transform from a "large" city into a "strong" one by building a maritime economy, according to its development plan. Technological progress related to maritime economy is anticipated to contribute 80 percent of the city's GDP by 2020.
In addition to waterways, Ningbo boasts a widespread transportation network, covering air, railway and expressway.
Only 13 kilometers away from the city center, the Ningbo Lishe International Airport is the main international terminal serving the city. There are more than 50 direct flights linking Ningbo with many important cities around the world, including Beijing, Guangzhou, Taipei, Hong Kong, Seoul, Bangkok and Singapore.
The advanced transportation infrastructure has also facilitated the boom of the conference and exhibition industry.
About 300 conferences and exhibitions took place in Ningbo on a yearly basis.
The city hosted a forum with the theme of IT and urban development, part of the Shanghai World Expo in 2010. The foreign ministers of China, Japan and South Korea held a meeting in Ningbo in 2012.
When senior APEC officials began to gather there in mid-February, Ningbo started becoming more of a household name in the international media.
There are 20 economic major development zones in the city, including three national-level ones.
The zones focus on upgrading industries, drawing top experts and specialists, enhancing international cooperation and exploring new paths to furthering reforms and opening-up, local officials said.
A 1-billion-yuan ($164.6 million) special fund for the new materials industry was established at the city's national high-tech development zone last year with the goal of pushing the output value generated by the sector to more than 200 billion yuan by 2016.
zhuanti@chinadaily.com.cn

Night falls along the waterfront in Ningbo. Senior APEC leaders are converging on the Yangtze River Delta metropolis for an official summit. Photos Provided to China Daily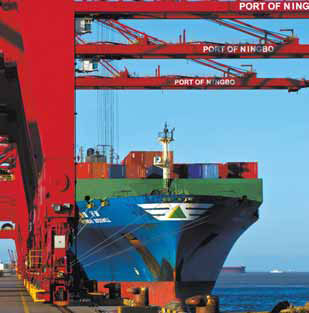 The Port of Ningbo ranked sixth globally in terms of containers handled annually, and it ranked third on the Chinese mainland in 2013.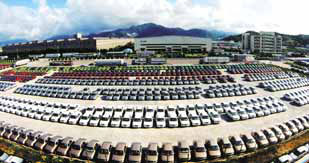 Geely auto production base in Ningbo.
(China Daily 02/28/2014 page12)