Egypt's prosecution imposes travel ban on Morsi
CAIRO - Egypt's General-Prosecutor Abdel-Meguid Mahmoud, previously dismissed by ousted President Mohamed Morsi, ordered a travel ban on Morsi and another 35 Muslim Brotherhood (MB) figures over investigations on killing protesters, state-run Al-Ahram news website reported Thursday.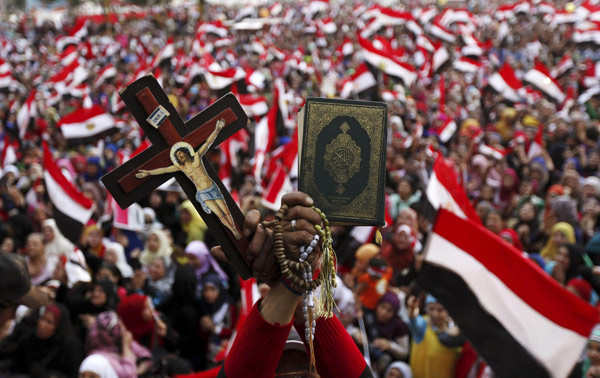 A demonstrator holds a cross and a Koran during a protest against ousted President Mohamed Mursi at Tahrir Square in Cairo July 4, 2013.[Photo/Agencies]
The ban was also slapped on Mohamed Saad al-katatni, leader of the MB's Freedom and Justice Party, Rashad al-Bayoumi, deputy general guide of the group, as well as some staff members of Islamic TV channels.
The report said that investigations revealed their involvement in inciting violence against anti-Morsi protesters in the capital Cairo, Giza, Alexandria and Marsa Matrouh, which reportedly killed at least 11 and injured hundreds more.
The decision came one day after the ouster of the MB-affiliated president by the military on Wednesday evening after he failed to respond to millions of protesters who took to the streets to demand his removal and an early presidential election.
Also on Wednesday, the Egyptian Supreme Judiciary Council approved the return of Mahmoud, a Hosni Mubarak-era prosecutor-general, who was dismissed by a controversial constitutional declaration issued by Morsi on November 21 last year.
In that declaration, Morsi gave himself the power to appoint Talaat Ibrahim Abdullah as the new prosecutor-general for a four- year term. Mahmoud then appealed Morsi's decision, depending on the Egyptian law that protects the post of prosecutor-general against dismissal.
Related:
Egypt's Muslim Brotherhood Leader arrested
Egypt should seek to avoid escalating conflict
China urges dialogue among Egyptian parties
Egypt's Adli takes oath as interim president
Obama urges quick return to civilian rule in Egypt