EU to launch 8-billion-euro youth employment deal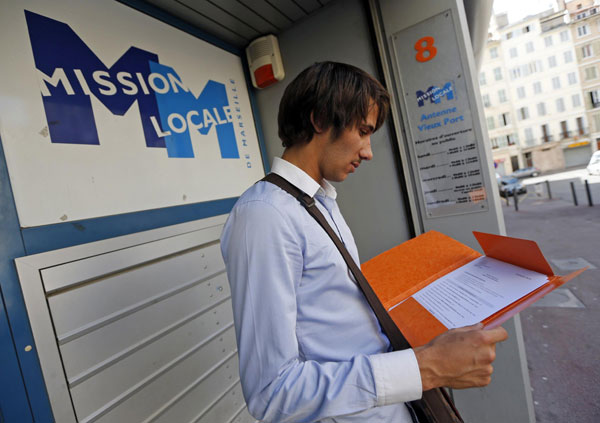 Christopher, a 24-year-old unemployed Frenchman, leaves a local agency for employment as he looks for a job in Marseille June 17, 2013. [Photo/Agencies]
BRUSSELS - Top leaders of the European Union (EU) have agreed on an 8-billion-euro youth employment initiative, aimed at solving the urgent issue of youth unemployment as well as boosting small and medium-sized enterprises.
EU leaders, who are here attending a two-day summit, decided to scale up the funding for the initiative from 6 billion to 8 billion euros and "frontload" the initiative for the next two instead of seven years, starting from January 2014, European Council President Herman Van Rompuy said at a press conference in the wee hours of Friday.
Many EU member states would count on the initiative to help provide a job, training or apprenticeship to young people within four months after leaving school or becoming jobless.
But critics emphasized that it would not solve the problem unless combined with other fundamental measures including the reform of labor market.
"The problem won't be solved overnight, but there's no reason for a mission-impossible mindset," Van Rompuy said, adding that the first day of the EU summit was "productive".
European Commission President Jose Manuel Barroso also spoke of "a growth and jobs summit" and "a good day of work for Europe", recalling the two agreements on banking resolution and the 2014-2020 multi-financial framework reached earlier Thursday by European officials after hours of negotiations.
EU social partners, representing large and small enterprises as well as public services and trade unions, had been invited to exchange views with EU leaders prior to the summit, demonstrating the necessity for common actions at all levels.
After years of economic and debt crisis as well as austerity measures across Europe, unemployment, as Barroso described, has become Europe's "social emergency".
Eurostat statistics reported 5.6 million unemployed young people in April across the EU, which equals an average youth jobless rate of 23 percent. In southern European countries like Greece and Spain, youth unemployment stood at 50 percent.