Private jet ready to take Snowden to Iceland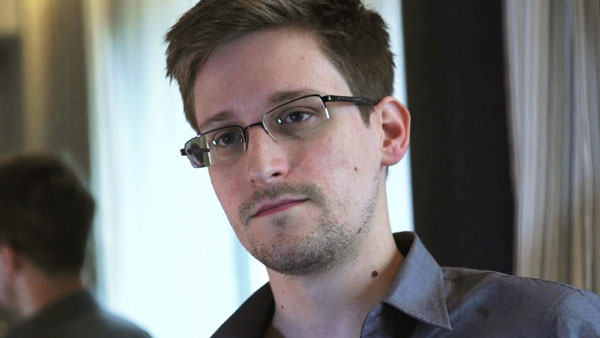 NSA whistleblower Edward Snowden, an analyst with a US defence contractor, is seen in this still image taken from video during an interview in his hotel room in Hong Kong, in this June 6, 2013 file photo. [Photo/Agencies]
REYKJAVIK - An Icelandic businessman linked to WikiLeaks said he has readied a private plane to take Edward Snowden, the former National Security Agency contractor who exposed secret US surveillance programmes, to Iceland if the government grants him asylum.
"We have made everything ready at our end now we only have to wait for confirmation from the (Icelandic) Interior Ministry," Olafur Vignir Sigurvinsson said. He is a director of DataCell, a company which processed payments for WikiLeaks.
"A private jet is in place in China and we could fly Snowden over tomorrow if we get positive reaction from the Interior Ministry. We need to get confirmation of asylum and that he will not be extradited to the US We would most want him to get a citizenship as well," Sigurvinsson said.
Neither a WikiLeaks spokesman nor the Icelandic government were immediately available for comment.
Snowden, a former employee of contractor Booz Allen Hamilton
who worked in an NSA facility in Hawaii, made world headlines this month after providing details of the programmes to the Guardian and Washington Post and fleeing to Hong Kong.
Earlier this week, WikiLeaks spokesman Kristinn Hrafnsson said a middleman had approached him on behalf of Snowden to seek asylum in Iceland.
The Icelandic government, which has declined to say whether they would grant asylum to Snowden, confirmed it had received the message from Hrafnsson.
Birgitta Jonsdottir, a lawmaker for the Pirate Party in Iceland which campaigns for Internet freedom, said the only way for Snowden to travel to the Nordic country would be to have Icelandic citizenship.
Snowden has mentioned Iceland as a possible refuge.
Iceland has a reputation for promoting Internet freedoms, but Snowden has said he did not travel there immediately from the United States because he feared the country of 320,000 could be pressured by Washington.
WikiLeaks founder Julian Assange, holed up in the Ecuadorian embassy in London to avoid extradition to Sweden for questioning over allegations of sex offences, visited Iceland several times in the run-up to some of the website's major releases. Assange denies any wrongdoing.
WikiLeaks and DataCell won a ruling this year in Iceland's Supreme Court against MasterCard's local partner.
The court upheld a lower court's ruling that the payment card company had illegally ended its contract with the website. WikiLeaks' funding had been squeezed without the ability to accept card payments.