3 killed, hundreds injured in Argentina train crash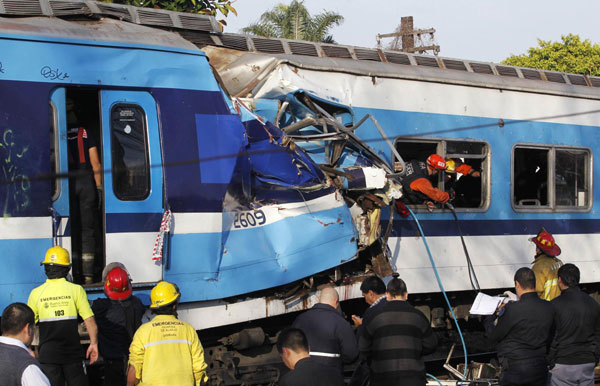 Rescue workers and firefighters work at the site of a train accident at the locality of Castelar in the province of Buenos Aires, June 13, 2013. [Photo/Agencies]
BUENOS AIRES - A train carrying passengers during the morning rush-hour Thursday crashed into another stationary empty train outside Buenos Aires, killing three people and injuring more than 300 others.
The accident occurred at 7:07 am local time (1007 GMT) on the Sarmiento rail line that has been under government control at Castelar station, some 30 km west of the capital city, the same line where a train crash last year killed 52 people.
Witnesses described the collision as "explosive," shaking the walls of nearby houses and derailing several of the train cars.
Minister of the Interior and Transportation Florencio Randazzo told reporters that officials have decided to suspend train service (on that line) for 24 hours so the law enforcement agency can calmly investigate into the cause of the accident and find out what really happened.
It was still unknown whether the crash was caused by mechanical failure, human error or some other reasons, while the state-run train agency dismissed possible brake failure as a cause and suggested that the conductor was at fault.
The driver of the train was also injured and taken to hospital along with the injured passengers.
Argentina's 1980 Nobel Peace Prize winner, Adolfo Perez Esquivel, expressed "his full solidarity with the victims" of the accident, which he described as "another tragedy foretold and avoidable."
President Cristina Fernandez and other government officials were "very moved" and "saddened" by the tragedy, Randazzo said.