Murdoch files for divorce from wife Wendi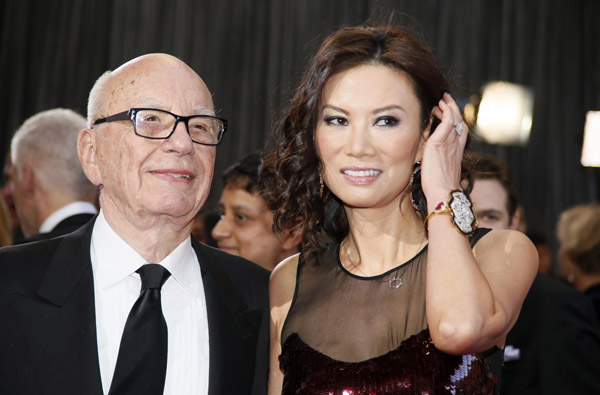 Rupert Murdoch, chairman and CEO of News Corporation, arrives with his wife Wendi Deng at the 85th Academy Awards in Hollywood, California in this February 24, 2013 file photo. [Photo/Agencies]
News Corp. Chief Executive Rupert Murdoch has filed for divorce from his wife Wendi, the company confirmed on Thursday, just days before News Corp. itself splits into two.
The reasons for the filing were not immediately clear, though a spokesman for Murdoch said the marriage had been irretrievably broken for more than six months. Murdoch, 82, married the former Wendi Deng, 44, in 1999.
The filing comes just days before the split of News Corp. into two companies, one for its entertainment assets and the other for its publishing business. Murdoch, who Forbes says is worth $9.4 billion, is to be chairman of both companies.
Analysts said the end of the Murdochs' marriage was unlikely to have an effect on the corporate split.
"I doubt it has a substantial impact on the spin," Gabelli & Co. analyst Brett Harriss said, referring to the News Corp. separation. "Given that it's his third wife, I see it unlikely that he didn't plan for this contingency."
A person familiar with the situation said Murdoch and Deng had a prenuptial agreement, though it was not clear which one would move out of the couple's Upper East Side apartment in New York City.
Murdoch and Deng have two young daughters, Grace and Chloe. Murdoch has four grown children, Prudence from his first marriage and Lachlan, James and Elisabeth from his second. News Corp. shares were unchanged in midday trading.
Ira Garr, an attorney listed as representing Murdoch, did not immediately return a call seeking comment.
A few years ago, several news reports said that Deng had battled Murdoch's adult children to secure a voting position for her children in the family trust, which holds the Murdoch stake in News Corp., worth billions of dollars.
As it now stands, the two youngest girls do not have voting rights in the trust, though they do have an ownership stake.
Interpreter to star
Wendi Deng, the daughter of a factory director in Guangzhou, China, came to the United States in 1988 after serving as an interpreter for a Los Angeles couple working in China.
She went on to get an MBA from Yale and landed a job at News Corp.'s Star TV as an intern in 1996. She met Murdoch in 1998 when she was a junior executive who acted as his interpreter during a business trip to China.
The pair married in 1999 after Murdoch divorced his wife of 31 years.
To many people outside the media industry, Deng is best known for a July 2011 incident in the British Parliament, where Rupert Murdoch was testifying about a phone-hacking scandal.
More than halfway through the hearing, Deng suddenly leapt from her seat to protect Murdoch from a prankster who had slipped through a packed committee room and tried in vain to smash a shaving cream pie into Murdoch's face.
Deng intercepted him with a furious slap.