Brooklyn Bridge shut down due to suspicious vehicle
The Brooklyn Bridge has been shut down in both directions while police investigate a suspicious vehicle, New York City police said on Monday.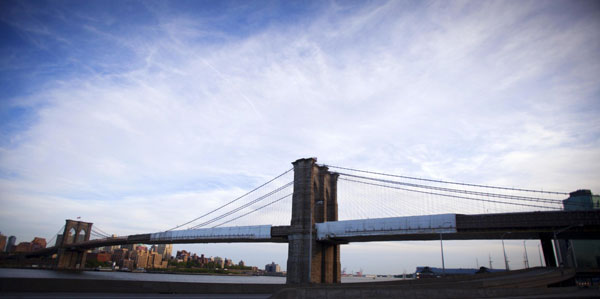 The Brooklyn Bridge is pictured at dusk on Memorial Day in New York May 27, 2013. [Photo/Agencies]
An unattended, Manhattan-bound SUV was being investigated by the police bomb squad, said New York Police Lieutenant John Grimpel. The historic bridge had been closed since 5:15 p.m. (2115 GMT).
"The bomb squad is responding to deem it safe or unsafe," Grimpel said.
WCBS Radio's traffic correspondent reported the vehicle had no license plates. With all lanes of the bridge, including pedestrian walkways, closed in both directions at the end of a holiday weekend, traffic was thick and backed up around the bridge, WCBS Radio reported.