Syria crisis displaces 700,000 families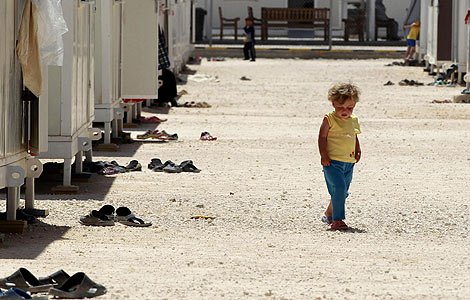 A Syrian refugee girl walks inside the Mrajeeb Al Fhood refugee camp, 20 km (12.4 miles) east of the city of Zarqa April 29, 2013. [Photo/Agencies]
DAMASCUS - A total of 535,000 houses have been completely destroyed across Syria since the eruption of crisis two years ago, resulting in the displacement of more than 700,000 families, a new study revealed.
The study, carried by pro-government al-Watan paper, said that an average of two to three families used to live in each house of those destroyed due to the deadly conflict, placing the overall number of displaced families at 700,000.
The study, based on accurate statistics about the reality of the real-estate situation in Syria, estimated the "real costs" of "rebuilding Syria" at 68 billion U.S. dollars. It added that the country needs at least 250,000 residences as "an emergency measure. "
Another study indicated that the living conditions of more than six million Syrians have been deteriorated over the past two years because of the world economic sanctions and the negative impacts of the crisis in the country, the Syrian Center for the Policies Researches, said in a study.
Reports indicated that the total economic losses suffered in the crisis amounted to 48.4 billion U.S. dollars in 2012, and the GDP losses declined further in 2012 by 18.8 percent to reach 24.1 billion dollars.