2 arrested as Dhaka building collapse toll reaches 332
DHAKA - In the wake of violent protests over Wednesday's building collapse that has left 332 workers dead so far, two of the owners of five ready-made garment factories housed in the collapsed Bangladesh building were arrested early Saturday.
The duo surrendered to detectives hours after Prime Minister Sheikh Hasina at a late night meeting on Friday with the leaders of the Bangladesh Garment Manufacturers and Exporters Association (BGMEA) and Bangladesh Knitwear Manufacturers and Exporters Association (BKMEA) said to go tough against the owners if they don't turn themselves in to the police.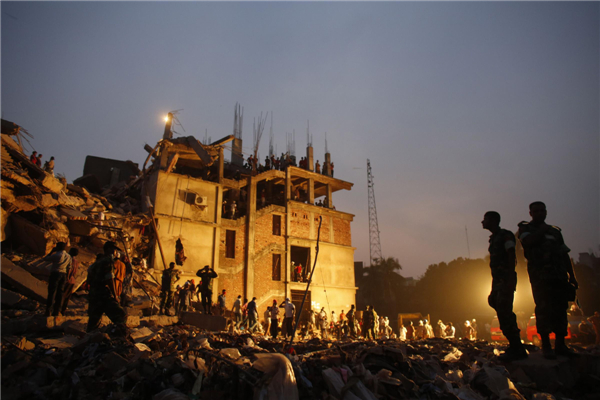 Rescue workers look for trapped garment workers at the collapsed Rana Plaza building in Savar, 30 km outside Dhaka April 26, 2013. [Photo/Agencies]
"We've asked Mahbubur Rahman Tapas and Bazlul Samad Adnan, owners of New Weave Bottoms and New Weave Style, to surrender to us as they turned themselves in at BGMEA building in the early hours of Saturday," a Detective Branch official told Xinhua Saturday morning.
The official, who preferred to be unnamed, said they were looking for the owners of three other factories and the owner of the building.
He said detectives were looking for Aminul Islam of Phantom Apparels and Phantom Tac Bangladesh Ltd. and Anisur Rahman of Ethertex Textiles who are on the run.
The building owner Sohel Rana went into hiding shortly after he was rescued from the rubble of the eight-storey building.
Encouraged by the building owner, all the five factories had allegedly forced their employees to work on Wednesday even though several cracks developed Tuesday.
In an apparent move to douse ongoing unrest among workers demanding capital punishments for the owners of the building and the factories, Bangladesh's ready-made garment sector announced Friday to shut down all the factories across the country on Saturday and Sunday.
Hours before the announcement was made, more than 10 associations of workers called a dawn-to-dusk strike in the garment sector on Sunday.  
The unruly protests which flared up first in Savar have spread quickly to capital Dhaka and many other apparel hubs where thousands of workers took to the streets and vandalized over 100 vehicles. The angry workers on Friday morning also reportedly set fire to two factories in protest against the Savar building collapse.
In one of the worst building collapses ever in Bangladesh, rescuers have so far pulled alive about 2,500 people including several on Saturday morning, keeping alive the hope that more lives can be saved as the rescue operation continues.
A police officer who preferred to be unnamed said the death toll from Wednesday's building collapse climbed to 332 on Saturday morning after overnight rescue operation.  
Rescuers reportedly have come up with a list of 761 people who are still missing.
Almost all the fatalities are workers of the five factories -- Phantom Apparels, Phantom Tac, Ether Tex, New Wave Style and New Wave Bottoms -- which make clothing for many major global brands.
The eight-storey building Rana Plaza crumbled like a pack of cards at about 8:30 am on Wednesday after it developed several cracks on Tuesday.
The building is owned by a leader of Prime Minister Sheikh Hasina's ruling Bangladesh Awami League party, who reportedly constructed it without permission from relevant authorities, and assured the owners of the factories that there was no problem despite cracks detected.
Workers alleged that the owners of the five factories forced them to join their respective workplaces on Wednesday morning.
Six floors of the building housed the five garment factories which, according to BGMEA, employed nearly 3,500 workers, mostly of them women. Furthermore, there were also a bank's branch and hundreds of shops inside the building.