Obama warns Syria chemical arms a 'game changer'
WASHINGTON - US President Barack Obama said on Friday that the use of chemical weapons by the Syrian government led by President Bashar al-Assad would be a "game changer", although he meanwhile cautioned such intelligence assessments were still "preliminary".
"It's obviously horrific as it is when mortars are being fired on civilians and people are being indiscriminately killed, to use potential weapons of mass destruction on civilian populations crosses another line with respect to international norms and international law," Obama said before meeting with Jordanian King Abdullah II at the White House.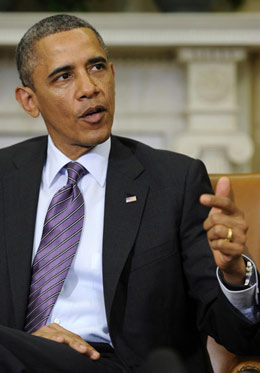 US President Barack Obama takes a question from a member of the press during a photo opportunity with Jordan's King Abdullah (not seen) prior to a bilateral meeting in the Oval Office of the White House to discuss issues like the Syrian crisis and regional security, in Washington, April 26, 2013. [Photo/Agencies]
"And, that is going to be a game changer," he told the press.
"We have to act prudently. We have to make these assessments deliberately, but I think all of us -- not just in the United States, but around the world -- recognize how we cannot stand by and permit the systematic use weapons like chemical weapons on civilian populations," said Obama, vowing to "mobilize the international community" on this issue.
The White House said on Thursday that the Syrian government has used chemical weapons in its conflict with the opposition forces.
In a letter sent to some members of the Congress, the White House said that "The US intelligence community assesses with some degree of varying confidence that the Syrian regime has used chemical weapons on a small scale in Syria, specifically the chemical agent sarin".
US Defense Secretary Chuck Hagel, who was on a visit to Abu Dhabi, the United Arab Emirates, issued a statement on Thursday, saying the  conclusion was made in the past 24 hours after assessment for some time.
Obama has set a red line over chemical weapons, warning time and again that Syria government's use or failure to secure them will be a "game changer" in his calculation on policy toward the Arab nation.
However, Obama on Friday was still cautious on the final conclusion that Assad has used chemical weapons, and did not claim the Syrian leader has crossed this red line.
"These are preliminary assessments," he said alongside the Jordanian king. "There are a range of questions around how, when, where these weapons may have been used."
Obama promised that Washington would pursue a "very vigorous investigation" itself and meanwhile cooperate with the international community.
"We're gonna be consulting with our partners in the region, as well as the international community and the United Nations to make sure that we are investigating this as effectively and as quickly as we can," he noted.