UK to honor Winston Churchill on new banknote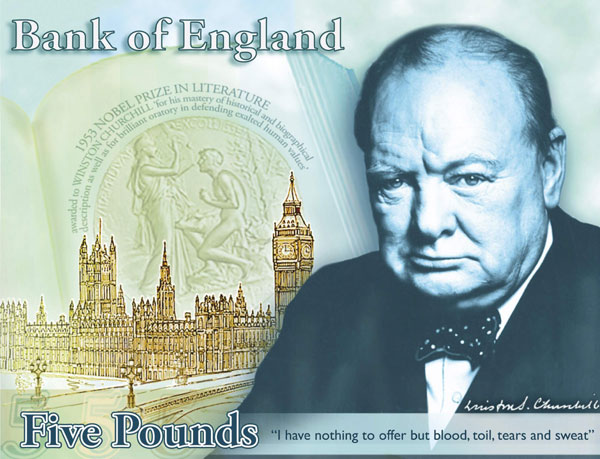 Britain's wartime leader Winston Churchill is seen on a design for a new banknote, which includes his famous declaration "I have nothing to offer but blood, toil, tears and sweat", in a picture released by the Bank of England in London April 25, 2013. The governor of the Bank of England, Mervyn King, travelled to Churchill's former home Chartwell in Kent, southern England on Friday to announce plans for Churchill's image to appear on a new five-pound ($8) note to be issued in 2016.[Photo/Agencies]
LONDON - Britain is set to honor its revered wartime leader Winston Churchill with a banknote featuring his portrait and famous declaration "I have nothing to offer but blood, toil, tears and sweat".
The governor of the Bank of England, Mervyn King, travelled to Churchill's former home Chartwell in Kent, southern England on Friday to announce plans for Churchill's image to appear on a new five-pound ($8) note to be issued in 2016.
"Sir Winston Churchill was a truly great British leader, orator and writer. Above that, he remains a hero of the entire free world," outgoing central bank governor King told members of the Churchill family.
Churchill, no stranger to the British currency after his face was emblazoned on a five shilling piece in the 1960s, joins the ranks of Isaac Newton, William Shakespeare and Charles Dickens who have all adorned banknotes in the past.
Queen Elizabeth is on one side of each of Britain's four denominations of bank notes, while celebrated Britons take their turn for 10 to 20-year stints on the overleaf.
This will be the third change of bank note announced under King, who steps down from the Bank of England's top job after a 10 years on July 1. He brought fellow economist Adam Smith onto the 20 pound note and the inventors of the steam engine to the 50 pound note.
The Bank of England said that while the plan was for Churchill to feature on the five-pound note, that decision had not been finalised.
The blue-green design sets Churchill, who as prime minister led the country to victory over Nazi Germany in World War Two, against the backdrop of Westminster and the Nobel Prize medal which he won for literature in 1953.
The "blood, toil, tears and sweat" quotation, one of the most famous from his huge repertoire and taken from his first speech as prime minister in 1940, will be inscribed beneath a portrait photograph taken in 1941.
The current batch of notes features prison reformer Elizabeth Fry, naturalist Charles Darwin, economist Smith and Matthew Boulton and James Watt, inventors of the steam engine.
Banknotes have had historical figures on them for around 40 years but Churchill will be only the second prime minister after the Duke of Wellington to feature on a note and one of only a few individuals from the 20th century.