Obama to face scrutiny on Syria during Jordan visit
Sandstorm brings last-minute hitch for president
A day after challenging Israelis to embrace peace with Palestinians, US President Barack Obama was scheduled on Friday to face scrutiny over his strategy on Syria during an overnight stay in Jordan.
Following a three-day trip to Israel and the Palestinian territories, his first as president, Obama was to fly to Amman for talks and a private dinner with King Abdullah, after ending his trip to the Holy Land with a visit to Bethlehem's Church of the Nativity.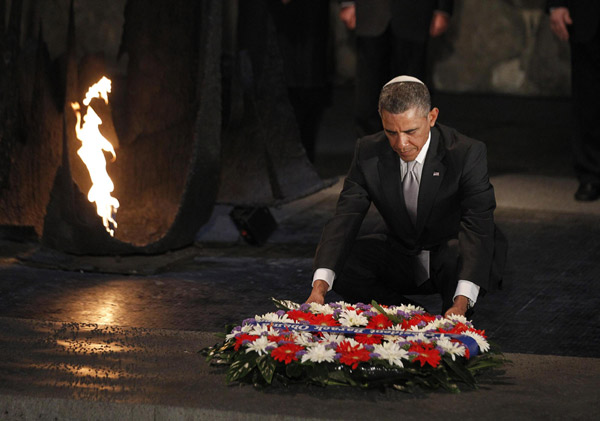 US President Barack Obama lays a wreath during his visit to the Hall of Remembrance at the Yad Vashem Holocaust Memorial in Jerusalem on Friday. [Photo/Agencies]
But an unexpected sandstorm, with galeforce winds, caused a last-minute hitch to his plans, forcing the president to travel by motorcade to the town, regarded by Christians as the birthplace of Christ, Israel police said.
With zero visibility and raging winds also buffeting Ben Gurion airport near Tel Aviv, it was not immediately clear whether his departure for Jordan would be delayed.
While the thrust of his trip to Israel was reassurance that the United States would mount an "eternal" defense of Israel in the face of the Iranian nuclear threat, in Jordan Obama will turn to the agony of Syria's conflict.
Jordan is sheltering nearly 436,000 Syrian refugees, a figure expected to rise to 700,000 by the end of the year, as people fleeing vicious sectarian fighting between President Bashar al-Assad's forces and rebel groups spill over its borders.
Obama has resisted pouring US arms or ammunition into the conflict, which the UN estimates has taken at least 70,000 lives, but has offered logistical support to rebels, and hundreds of millions of dollars in humanitarian aid.
He will also support political reform efforts inside Jordan, which has been an oasis of relative calm in a region swept by turmoil.
A senior US official said Obama wanted to coordinate with the king on security challenges and on helping Jordan alleviate the refugee crisis.
"We're providing a lot of assistance to support Jordan and international organizations that are supporting the refugee population inside Jordan," he said.
"We're also working very closely with the Jordanian government as part of the coalition of countries that is supporting the Syrian opposition to pressure the government, to build up the opposition, and try to bring about a new Syria."
In Jerusalem, Obama said the US was investigating claims that chemical weapons had been used in Syria, warning it would be a "game-changer" and that Assad's government would he held accountable.
Obama on Friday visited the grave of Theodor Herzl, the father of modern Zionism, then paid his respects at the grave of murdered Israeli premier Yitzhak Rabin.
On a hot and windy morning, he walked slowly up to the grave, flanked by Israeli Prime Minister Benjamin Netanyahu and President Shimon Peres, and placed a stone on it from the grounds of Washington's Martin Luther King memorial.
He also toured the nearby Yad Vashem Holocaust Museum, saying it showed "the barbarism that unfolds when we begin to see our fellow human beings as somehow less than us.
"Here, on your ancient land, let it be said for all the world to hear: The state of Israel does not exist because of the Holocaust, but in the survival of a strong Jewish state of Israel, the Holocaust will never happen again."
After a brief meeting with Netanyahu at a hotel, Obama had been due to fly by helicopter to Bethlehem, but the sudden storm forced a change of plans
AFP-Reuters