Teen wearing 'killer' shirt gets life for shooting
CHARDON, Ohio - Wearing a white T-shirt with "killer" scrawled across it in large, apparently handwritten letters, a teenager was given three lifetime prison sentences without the possibility of parole Tuesday for opening fire last year in a high school cafeteria in a rampage that left three students dead and three others wounded.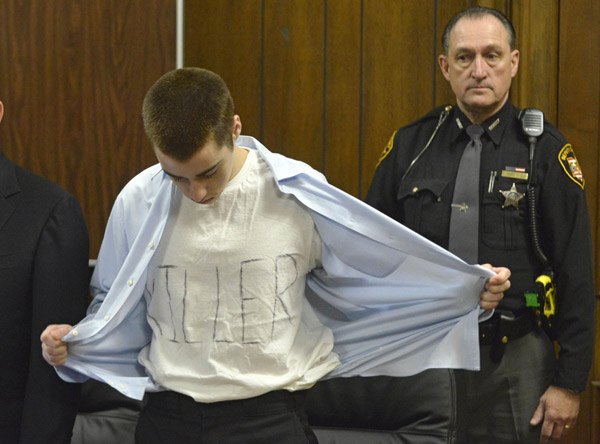 T. J. Lane takes off his shirt to show a white t-shirt with the words "Killer" spelled out at his sentencing before Geauga County Judge David Fuhry in Cleveland, Ohio March 19, 2013. Lane was sentenced to life without parole for killing three students in a shooting rampage at a high school in a small town east of Cleveland. [Photo/Agencies]
T.J. Lane, 18, had pleaded guilty last month to shooting at students in February 2012 at Ohio's Chardon High School, east of Cleveland. Investigators have said he admitted to the shooting but said he didn't know why he did it.
Before the case went to adult court last year, a juvenile court judge ruled that Lane was mentally competent to stand trial despite evidence he suffers from hallucinations, psychosis and fantasies.
Prosecutors say he took a .22-caliber pistol and a knife to the school and fired 10 shots at a group of students in the cafeteria. Daniel Parmertor and Demetrius Hewlin, both 16, and Russell King Jr., 17, were killed.
Lane was at Chardon waiting for a bus to the alternative school he attended, for students who haven't done well in traditional settings.
Lane had pleaded guilty last month to three counts of aggravated murder, two counts of attempted aggravated murder and one count of felonious assault.
He faced a maximum sentence of life in prison without parole. He wasn't eligible for the death penalty because he was 17 at the time of the shootings. Relatives of the slain students indicated earlier they wanted Lane to get the maximum sentence.