DPRK holds meeting of grassroots party chiefs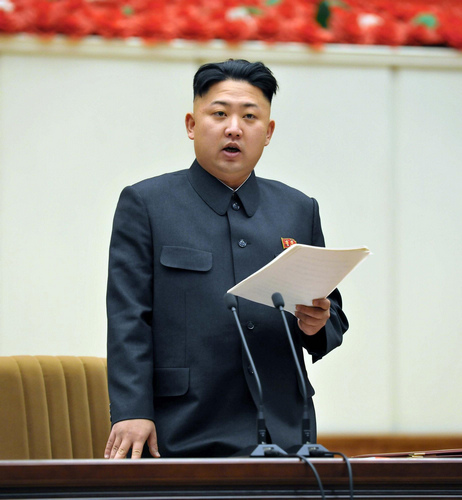 DPRK leader Kim Jong-Un makes an opening address at the Fourth Meeting of Secretaries of Cells of the Workers' Party of Korea, in Pyongyang in this undated picture released by DPRK's KCNA news agency, on Jan 29, 2013. [Photo/Agencies]
PYONGYANG - Grassroots leaders of the ruling party of the Democratic People's Republic of Korea (DPRK) are gathering here for an "epochal" conference to strengthen the organization's basic cells.
The Fourth Meeting of Secretaries of Cells of the Workers' Party of Korea (WPK), which opened Monday, is attended by around 10,000 cadres from across the country, the official KCNA news agency reported Tuesday.
"The Central Committee of the WPK is determined to make this meeting a great turn in the overall party work by reviewing the successes, experiences and defects in the past and radically strengthening the work of the party branches," Kim Jong Un, first secretary of the WPK, said at the opening ceremony.
He called upon the participants to hold high the banner of Kimilsungism-Kimjongilism, build their homeland into a thriving country and achieve the cause of national reunification.
The current meeting, he said, would be an epochal turning point in increasing the party's capability by decisively enhancing the function and role of the party branches.
The previous three meetings were held in 1991, 1994 and 2007. The irregularity suggests that such meetings are held only when deemed necessary.