BEIJING - Asian media should increase their influence to match the growing economic clout of the continent, a top Chinese official has said.
Li Changchun, a member of the Standing Committee of the Political Bureau of the Communist Party of China Central Committee, made the remarks during a meeting with representatives of Asia News Network (ANN), an alliance of 21 leading newspapers in Asia.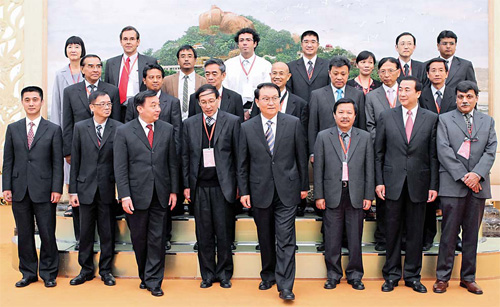 Li Changchun (front, fourth from right), a member of the Standing Committee of the Political Bureau of the CPC Central Committee, meets senior newspaper editors of Asia News Network in the Great Hall of the People on Thursday. The editors are in Beijing to attend an annual meeting of the news alliance. Zhu Ling, editor-in-chief of China Daily (front, second from right), also co-hosted a forum on climate change on Thursday for the editors. [China Daily]
The senior editors were attending the Asia Forum 2010 in Beijing, which brought together government officials, business leaders and members of the media to share knowledge of climate change trends among Asian countries and the future of a green Asia.
The forum was sponsored by China Daily, ANN and Konrad-Adenauer-Stiftung, a German research foundation. It is followed by the annual meeting of the Asian news alliance scheduled for Friday.
"We have to recognize that in today's world, the Western media has gained an upper hand in terms of influencing public opinion," Li said.
As Asia's economy continues to develop, the voices from Asian media organizations should become louder and stronger, he said.
Faced with more challenges and opportunities in the new era, the mainstream Asian media should move with the times and work together for the peace, cooperation and common prosperity of the Asian community, Li said.
ANN provides such a platform for stronger communication and exchanges between major mainstream news organizations, he said.
"I hope Asian media can be a bridge for mutual understanding of China and other parts of Asia," Li said.
China cannot develop without the other parts of Asia and the prosperity of the region needs China's development, which will continue on a peaceful path, Li said.
With more foreign reporters heading to China for news coverage, the government will continue to provide favorable conditions for their work and improve the flow of information at various government levels, Li said. Similarly, the authorities will do their best to ensure dissemination of timely and transparent information during important events or incidents, he said.
To that effect, the country has been enhancing the capacity of its major news organizations to improve global communication, Li said.
China encourages more Asian news organizations to operate in the country and welcomes them to cover the upcoming Shanghai World Expo, which marks the first time a developing country has been given the right to hold a world exposition.
Pana Janviroj, president of The Nation media group in Thailand and the executive director of ANN, said he appreciates the dynamism of Chinese media.
At Thursday's Asia Forum, participants said governments should also ensure climate change talks proceed in a "transparent and inclusive" way, while companies and media should enhance their involvement in green development.
The forum came a day before negotiators gather in Bonn, Germany, for the first official talks under the United Nations Framework Convention on Climate Change (UNFCCC) since the Copenhagen summit in December.
The United States will also host a meeting of major economies on April 18-19 in Washington to advance talks on a global deal to fight climate change.
"The Copenhagen summit told us that results from negotiations that lack openness, transparency and broad participation simply will not gain the recognition of all countries," said Xie Zhenhua, China's top climate change negotiator.
"Such negotiations will erode mutual trust among the countries and will be detrimental to fixing any climate change woes," he said in a written speech read out at the forum.
Climate change talks should take place on the basis of the UNFCCC and the Kyoto Protocol, on the principle of transparency, wide and equal participation, and on consensus based on consultation, Xie said.
The negotiating session in Bonn precedes the next round of UN climate talks in Cancun, Mexico, in December.
"China hopes the Mexico meeting will be able to yield positive progress," Xie said. "The country will continue to play an active and constructive part in the negotiations."
Top US climate negotiator Todd Stern said on Wednesday that the upcoming Major Economies Forum was not intended to be a negotiating forum to replace the UN, Reuters reported.
Speaking at Thursday's meeting, Thailand's Minister of Natural Resources and Environment Suwit Khunkitti said: "We should continue to support climate change talks as a multilateral approach which provides a transparent and inclusive forum to address this global issue which is crucial to our future."
"I hope Asian countries can come together and have an Asian voice which drives the negotiations to achieve a rational and effective solution," he said.
Zhu Ling, editor-in-chief of China Daily, said there is no doubt that the media should play a crucial role in spreading knowledge and education, and most importantly, in building consensus.
"It ought to be our consensus that growth cannot be sustainable at the expense of our environment," he said.
Mahfuz Anam, editor and publisher of The Daily Star newspaper from Bangladesh, who moderated the forum's first session titled Common Challenges and Differentiated Responsibilities for Asia, said: "Climate change is something that we can't escape anymore. We are all vulnerable."
Zheng Guoguang, director of the China Meteorological Administration, said Asian governments should prioritize combating weather extremes in their efforts to mitigate the affects of and adapt to climate change.