Central bank to resume sales of three-year bills from Thursday
BEIJING: It is still premature at this stage for China to withdraw its fiscal stimulus despite the country's sustained economic growth, the World Bank said on Wednesday.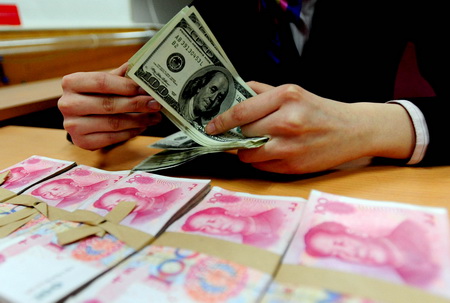 The World Bank expects China's GDP to expand by 9.5 percent year-on-year in 2010 with inflation reaching 3.5 percent to 4 percent on average. [Hong Fan / For China Daily]
Although the country registered an 8.7 percent GDP growth year-on-year in 2009, its private investment is yet to become the engine of growth, which would disrupt the recovery process, the bank said in its latest East Asia and Pacific Economic Update.
China needs to carefully manage the withdrawal of fiscal stimulus measures in the short term while returning to the structural reform agenda to promote growth in the long term "as it faces a very different global economy, which is characterized by slower growth in developed countries, tighter global financial conditions, and a more difficult environment for free trade", said Vikram Nehru, World Bank chief economist in a video conference from Tokyo.
The focus on structural reform for China means rebalancing the economy, including enabling a larger role for the services sector and private consumption and moving away from investment-heavy, export-led growth as well as encouraging environmental sustainability, the World Bank said in the report.
In addition, with rising inflation and asset prices, and continued strong economic growth, the exchange rate of the yuan "is likely to appreciate" as it would help domestic economic restructuring, the World Bank said, without providing any forecast on the timetable for the yuan revaluation.
"Strengthening the exchange rate can help reduce inflationary pressure and rebalance the economy," said Ardo Hansson, World Bank's lead economist for China.
Meanwhile, China's central bank is set to resume selling of three-year bills from Thursday, according to a Bloomberg report. The bills may yield between 2.7 percent and 2.8 percent at the sale, compared with 1.9264 percent for one-year bills, traders at three of the nation's largest banks were cited as saying.
It could be a precursor to the first increase in benchmark lending rates in more than two years or allowing yuan to be more flexible, Jiang Chao, analyst at Guotai Junan Securities Co told Bloomberg.
Related readings:


 Stimulus policy set to continue


 China to face stimulus exit problem sooner or later


 Economists say China may 'adjust' monetary stimulus 


 What's next for China's monetary policy?
"This is meant to pave the way for the central bank to raise interest rates or resume yuan appreciation," said Jiang. "The central bank can drain liquidity by issuing bills if the interest-rate hike or appreciation attracts more hot money."
"The People's Bank of China needs to use higher-yielding bills to attract banks so that they won't make too many loans," Xu Xiaoqing, a bond analyst at China International Capital Corp told Bloomberg.
"Three-year bills can lock up banks' cash for longer periods, which will push up money-market rates and bond yields."
The World Bank expects China's GDP to expand by 9.5 percent year-on-year in 2010, with inflation reaching 3.5 percent to 4 percent on average, higher than the pre-set government goal of 3 percent.
It also raised its forecast for economic growth in East Asia to 8.7 percent in 2010, compared with 7.8 percent in its November 2009 forecast.
Bloomberg contributed to the story.