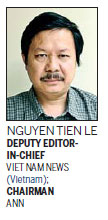 ANN should be expanded to have increased dialogue with editors in the developed world, especially North America, the chairman of the newspaper alliance has said.
"The alliance should be the bigger, the better; working as a dialogue platform for Asian media professionals," said Nguyen Tien Le. "I personally believe the alliance should be expanded."
Nguyen, also deputy editor-in-chief of Viet Nam News, said ANN has helped raise the voice of Asian nations by pooling stories from their member newspapers, which are written from the Asian viewpoint and reflect their interests.
Through exchanges and seminars during the past several years, he said mutual understanding between Asian and European editors and journalists has been boosted, "but we need more dialogue with the colleagues in North America".
He said he is not satisfied with the reporting on Asia, especially about emerging Asia, in the Western media.
"In a number of cases, stories carried by Western media reflect a lack of understanding about local culture, traditions and social background," he said.
To improve their coverage, Western news organizations should post correspondents with a good understanding of Asian issues to the region.
He also said Asia should have a unified voice on Asian politics, religion, culture and policies, taking into account the specific conditions in each country.
Nguyen said over the past few years, the Chinese media have helped Asian countries have a better understanding of issues related to China; and specifically, China Daily reports provide ANN readers, including Vietnamese, a much clearer picture of the country.