Beijing -- The Asia News Network (ANN) held the opening ceremony of its 2010 annual meeting at the Kempinski-Beijing Hotel on Thursday Morning.
Founded in 1999, the Bangkok-based ANN rallies twenty-one newspapers in Asia, including the mainland's China Daily which is the organizer this year, Taiwan's China Post, Japan's Daily Yomiuri, Malaysia's Sin Chew Daily as well as Singapore's Straits Times. The network aims to optimize coverage of major news events in the region.
Newspaper editors, UN officials, foreign envoys, government representatives, academic scholars and businessmen were invited to Thursday's opening of the meeting. An Asian Forum, co-sponsored by China Daily, ANN and Germany's Konrad Adenauer Foundation, which aims at "better cooperation to tackle climate change" is also held at the Beijing hotel.
"Climate change is an international challenge that has raised worldwide concerns," said Zhu Ling, editor-in-chief of China Daily. "Media press plays a vital role in pushing for a public consensus on this issue."
"It's a consensus we should agree upon, that economic development at the cost of environment is unsustainable." Zhu said at the ceremony.
The National Development and Reform Commission (NDRC), China's top economic planner, echoed the ANN meeting's climate theme, pledging to push forward its clean energy policy.
"China will unswervingly carry out the sustainable development policy, actively push forward and adapt to climate-friendly developments," said NDRC vice chairman Xie Zhenhua, "In the spirit of row-together-in-the-same-boat, we hope the international community could enhance their mutual trust and beef up the climate cooperation, so as to work out a better planet for future generations."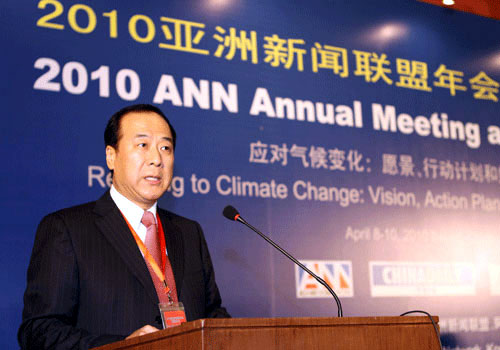 China Daily Editor-in-Chief Zhu Ling gives a speech at the opening of 2010 ANN Annual Meeting and Asia Forum, which is organized by Asia News Network, China Daily and Konrad-Adenauer-Stiftung, a German foundation, in Beijing on April 8, 2010. [Photo/Asianewsphoto]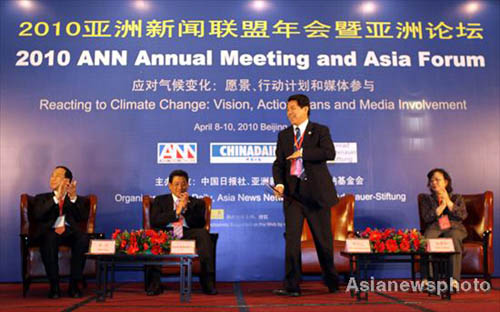 Zheng Guoguang, chief of the China Meteorological Administration, prepares to give a speech at the opening of the Asia forum "Reacting to Climate Change: Vision, Action Plans and Media Involvement" at Kempinski Hotel in Beijing on Thursday, April 8, 2010. [Photo/Asianewsphoto]