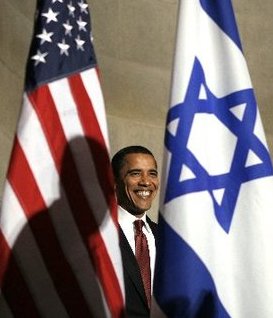 US Democratic presidential candidate Senator Barack Obama (D-IL) smiles as he is introduced to speak during a reception celebrating the 60th anniversary of Israel in Washington May 8, 2008. [Agencies] 
Washington -- US Democrat Barack Obama on Thursday did not rule out selecting rival Hillary Clinton as his vice presidential running mate if he ultimately defeats her in a race in which he has an almost insurmountable lead.
"There's no doubt that she's qualified to be vice president, there's no doubt she's qualified to be president," Obama told NBC News.
In a CNN interview, he said he had not wrapped up the Democratic presidential nomination, but when he does, he will start going through the process of selecting a running mate.
"She is tireless, she is smart. She is capable. And so obviously she'd be on anybody's short list to be a potential vice presidential candidate," said Obama, who inched closer to winning the nomination by routing Clinton in North Carolina and almost defeating her in Indiana on Tuesday.
Some Democrats are saying Obama and Clinton would be a formidable team against Republican John McCain in the race to the November election.
According to a CBS News/New York Times poll released last week, a majority of both Obama and Clinton voters say they would favor a so-called "Dream Ticket" involving both candidates.
The Clinton campaign has deflected such talk. Clinton campaign spokesman Howard Wolfson told reporters on Wednesday that it was premature to discuss such a ticket and he had not heard her express any interest in the vice presidency.