TOKYO - China will never be a military threat to any nation, President Hu Jintao said here yesterday, while vowing the country will continue to grow through peaceful development.
"China pursues a national defense policy that is defensive in nature. We will not join any arms race or become a military threat to any country," Hu said in a speech at Tokyo's Waseda University that was broadcast live in both China and Japan.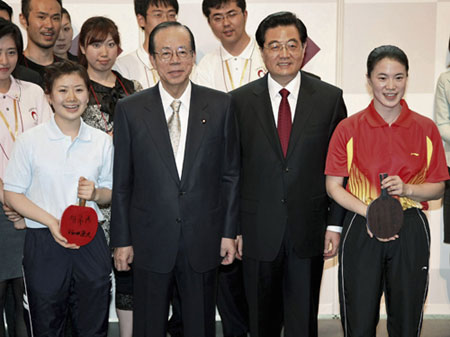 (L to R) Japanese table tennis player Ai Fukuhara, Japanese Prime Minister Yasuo Fukuda, Chinese President Hu Jintao, and Chinese table tennis player Wang Nan pose for photograph after Hu's playing table tennis at Waseda University's Okuma Garden House in Tokyo May 8, 2008. [Agencies]
For More Photos
China will never seek hegemony or territorial expansion, he said, adding that peaceful development is the strategic choice of the Chinese government and its people.
China and Japan should see each other as cooperative partners rather than rivals, he said.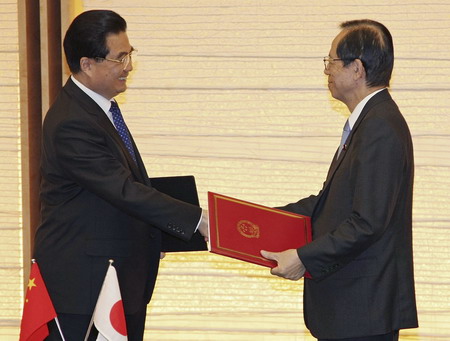 Chinese President Hu Jintao (L) and Japan's Prime Minister Yasuo Fukuda shake hands as they exchange signed documents during a signing ceremony at Fukuda's official residence in Tokyo May 7, 2008. [Agencies] For More Photos
"China and Japan should recognize each other's development objectively and accurately, and view each other's development not as threat but opportunities," Hu said.
He said mutual trust is the foundation of stable bilateral ties and the two countries should respect each other's concerns and core interests and insist on solving disputes through negotiation.
Speaking to an audience of about 1,500 people, Hu said Japan's wartime aggression greatly damaged friendly ties and brought disaster not only to the Chinese people but also deeply hurt the Japanese.
"History is the most philosophical textbook. We emphasize the remembrance of it not to continue the animosity but to learn from the past and face up the future," Hu said.
The two nations should cherish and maintain peace so their friendship can pass from generation to generation and the people of the world can enjoy peace and stability, he said.
His 50-minute speech was the key event of the third day of Hu's visit, which aims to reach out to the Japanese public.
China and Japan yesterday issued a joint press communiqu on boosting exchanges and cooperation as measures to implement the joint statement signed on Wednesday after talks between President Hu Jintao and Japanese Prime Minister Yasuo Fukuda.
According to the communique, several visits between the defense departments are scheduled within the year. Japan's defense minister will visit China this year, while the China's Air Force commander will visit Japan next month.
The two sides also agreed to launch the exchanges of about 4,000 Chinese and Japanese young people each year over the next four years.
The communiqu covered a range of issues including politics, trade, environmental protection and food safety.
Also yesterday, Hu had breakfast with four former Japanese prime ministers and separately met with Yohei Kono, speaker of Japan's House of Representatives and Satsuki Eda, president of the House of Councilors.