Moscow - Vladimir Putin will retain a "key role" in Russia for years as prime minister, new President Dmitry Medvedev said Thursday, as the two men opened an unprecedented era of dual rule.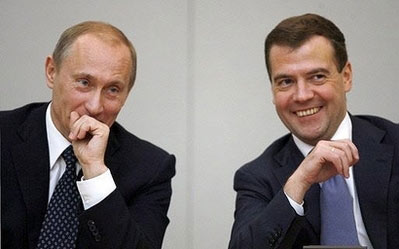 Russian President Dmitry Medvedevn (R) speaks with Russian Prime Minister Vladimir Putin at the State Duma, lower parliament chamber, in Moscow. Putin will retain a "key role" in Russia for years as prime minister, Medvedev said Thursday, as the two men opened an unprecedented era of dual rule.  [Agencies]
Hopes that the new era might usher in improved relations with the West took an immediate beating however as the US State Department announced in Washington that Russia had expelled two US military attaches.
Thursday was also marked by heightened tensions between Moscow and Georgia, whose president warned that the two countries had come close to war in recent days.
Putin was confirmed as prime minister by 392 of the 448 deputies at an extraordinary session of the lower house of parliament, the State Duma, one day after Medvedev was inaugurated at a lavish Kremlin ceremony.
Medvedev took over the presidency after Putin had spent eight years as president.
At Thursday's vote confirming Putin as prime minister, Medvedev said, "I think no one has any doubt that our tandem, our cooperation, will only continue to strengthen."
Putin "as head of government will play a key role in implementing" the country's strategy for development to 2020, Medvedev said.
The new president then listened as Putin, 55, outline plans to make Russia an economic and financial powerhouse, while improving social conditions.
Putin's move to the premiership completed a carefully choreographed transition.
Putin remains hugely popular among Russians who credit him with the country's economic revival on the back of massive energy exports and a newly assertive role on the world stage.
This has led many observers to suggest that he will be the senior partner in the dual leadership, which is unprecedented in Russia, where overwhelming authority has traditionally rested with the Kremlin.
While the division of power remains unclear, Putin focused closely on domestic issues in his speech, the traditional prerogative of the prime minister.
Laying out his vision for Russia through 2020 Putin called for lower taxes on oil companies, a battle against inflation and a boost to spending on healthcare and education.
"For us the vitally important task is to significantly increase the effectiveness and the stability of the national economy," he said, calling for improvements in productivity, infrastructure and the investment climate.
Medvedev was faced with major foreign policy challenges on his first full day as president as news emerged from Washington that two US military attaches had been expelled from Russia, although the cause remained unclear.
Meanwhile Georgian President Mikheil Saakashvili said his country had come close to war with Russia in recent days in a statement a Kremlin spokesman described as irresponsible.
Reacting to Thursday's events in the Russian parliament, some observers saw Putin's long, detailed speech and Medvedev's presence in the audience as designed to demonstrate that Putin remains the country's true leader.
"Putin behaved like he was head of state," said Yury Korgunyuk of the Indem think tank.
Medvedev is the youngest Kremlin leader for more than a century and, unlike Putin or most other members of Russia's ruling elite, he has no known past in the KGB or other security services.
Medvedev soon got his first taste of his vast new powers when a military officer presented him Wednesday with a briefcase that controls Russia's nuclear arsenal.
That power will be on display on Friday when Russia's Topol-M intercontinental ballistic missiles will be rolled through Red Square in a Victory Day parade that will feature heavy weaponry for the first time since the Soviet era.
Medvedev and Putin were to review the parade, which is being seen as much as an assertion of Russia's new military might as a commemoration of the end of the World War II.
Under the constitution, Medvedev has the right to fire his prime minister and dismiss the government at any time. Following reforms by Putin, parliament has been hugely weakened and provides little oversight.
However, now that Putin is starting a new career as prime minister and leader of the ruling United Russia party, that may change.
With two thirds of votes in the legislature, United Russia can in theory change the constitution.