WASHINGTON -- The worst of the nation's credit crisis may have passed, U.S. Treasury Secretary Henry Paulson said Wednesday, though he acknowledged rising gas prices will blunt the effect of 130 million economic stimulus checks.
Paulson: "I think we're closer to the end of this."
He ruled out a second stimulus package for now.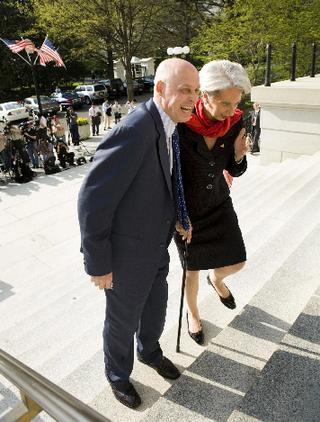 US Treasury Secretary Henry Paulson (L) walks with France's Finance Minister Christine Lagrade after posing for a family portrait of the G-7 finance ministers at the US Treasury during the World Bank/IMF 2008 Spring Meetings in Washington April 11, 2008. Paulson said the worst of the nation's credit crisis may have passed on May 7, 2008. [Agencies]
In an interview with The Associated Press, Paulson said the turmoil that has gripped Wall Street and that took a turn for the worse again in March has eased somewhat. "There's progress," he said. "I think we're closer to the end of this" than to the beginning.
A prolonged housing slump, a severe credit crisis and soaring energy costs have pushed the economy to the edge of a recession. To help cushion the blow, the Bush administration and Congress speedily enacted a $168 billion stimulus package of tax rebates for people and tax breaks for businesses.
With oil costs surging to record levels and gasoline prices hovering around all-time highs above $3.60 a gallon, Paulson acknowledged that pain at the pump would diminish the impact of the stimulus payments that are designed to give the economy a jump-start.
"Obviously, the high price of gasoline is unwelcome and is a challenge and is a headwind," he said.
The first batch of rebate payments started hitting bank accounts last week through direct deposits. Paulson, Vice President Dick Cheney and other Bush administration officials will head to government check printing centers around the country on Thursday for events highlighting the fact that millions of rebate checks are in the mail.
"We will get some help from the stimulus," Paulson said in the interview. "Later this year, I expect growth will pick up." Still, he acknowledged that the country was facing "tough times" as people struggle with soaring gasoline prices, higher medical costs and a weak jobs market.
Paulson said the steep slump in housing, which has depressed home sales and prices, remained "the biggest risk to the economy." Although he said he didn't know when the worst of housing's problems will pass, he suggested there will still be strains in the months ahead.
"Even the optimists here believe that you're going to continue to see in the next several months" newspaper headlines that will say prices have declined even further and foreclosures have increased, he said. "That's what happens during a correction."