NEW YORK -- Oil rallied back from early losses on Thursday to strike a fresh record above $124 a barrel as strong diesel demand outweighed signs of rising OPEC supplies.
US crude traded up to an all-peak of $124.61 a barrel in late activity, after settling up 16 cents at $123.69. London Brent crude rose $1.47 to $123.79 a barrel, after settling 52 cents higher at $122.84.
Oil rallied late on the strength of middle distillates, including diesel, on growing demand for transport fuel in Europe and power demand in emerging economies.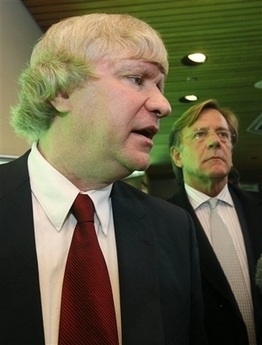 Former Alaska state Representative Vic Kohring, left, stands next to his attorney John Henry Browne in the federal building in Anchorage, Alaska on Thursday, May 8, 2008, after being sentenced in federal court to 3 1/2 years in prison for corruption charges. Kohring was convicted in November of accepting at least $2,600 from executives of VECO Corporation, an influential Alaska company that provided engineering, construction and facility maintenance services to oil producers. [Agencies]
A recent strike at the UK's Grangemouth refinery and production problems at the Porvoo refinery diesel unit in Finland have also thinned supplies.
Shortages of alternate fuels in China, South Africa, Latin America and parts of the Middle East have also set off a worldwide boom in demand for diesel for use in electric generators.
Further strength came from a US government inventory report on Wednesday that showed US distillate supplies down last week.
"There's a continuation of the strength in the middle distillate market that we've seen for a while now," said Eric Wittenauer, analyst at Wachovia Securities.
"On a global scale, you have a combination of growth in industrial use and for heating purposes and for transport in Europe."
Prices fell earlier on news top oil exporter Saudi Arabia booked eight supertankers to carry 16 million barrels of crude to the United States in May and early June, the highest number of cargoes so far this year.
OPEC exports, excluding Angola and Ecuador, are expected to rise 220,000 barrels per day (bpd) in the four weeks to May 24, forecast British consultancy Oil Movements.
Oil prices have surged five-fold since 2002, as supply struggles to match growing demand in emerging economies, and Goldman Sachs earlier this week forecast prices could rocket to $200 in the next two years.
A surge in speculative buying from investors hedging against inflation and the falling dollar has also lifted prices since September. Oil has jumped about $13 since late last week alone.
High fuel costs have battered the troubled US economy, and US President George W. Bush is expected to again ask OPEC to increase output when he travels to Saudi Arabia next week.
OPEC Secretary General Abdullah al-Badri on Thursday insisted oil markets are well supplied but added the cartel could pump more to keep up with demand.
"There is clearly no shortage of oil in the market," he said in a statement.