MOSCOW -- Russia's new president Dmitry Medvedev was sworn in on Wednesday, succeeding Vladimir Putin two months after he swept the country's presidential election.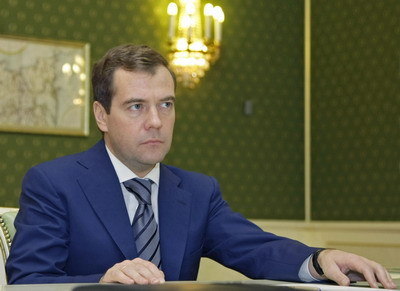 Russian president-elect Dmitry Medvedev attends a meeting in the Kremlin in Moscow May 6, 2008. Russian President Vladimir Putin is handing over to his successor a booming economy, bumper currency reserves and a major headache over how to stop the rosy economic picture from turning bad. [Agencies]
The inauguration ceremony was held at the St. Andrew Hall of the Great Kremlin Palace in central Moscow at noon and attended by senior officials as well as foreign guests.
As broadcasted live on state television, Putin arrived first and strode across one of the Kremlin's squares alone. He bid brief farewell to the presidential regiment and entered the palace.
Medvedev, who came next, was shown making a long and solemn walk through two sprawling reception halls before entering the St. Andrew Hall.
Making speech first on the inauguration, Putin thanked Russians for their support during his eight years in office, saying he "has not violated his promise" made when he took office eight years ago.
He asked Russians to support Medvedev and continue the path for the country's development.
"We should support him," Putin told a gathering of more than 2,000 lawmakers, government officials and foreign diplomats.
"Now, it is very important to altogether continue the already chosen course of the country's development, guided by the citizens' interests, which has already justified itself," he said.
Taking the oath of office, Medvedev pledged to "respect and protect the rights and liberties of every citizen," observe the Russian constitution and serve the people "faithfully."
In his speech after taking the oath, he promised to promote civil and economic freedom and bring the country to the best countries' club.
"I consider it my primary task the protection and further development of civil and economic freedoms and the creation of new great opportunities for people's self-fulfillment," he said.
"During the past eight years, we have set up strong foundations for long-term development, for decades of free and stable development," he said.
"The unique chance is something we must use to maximum, so that Russia would become one of the best countries in the world... This is our strategy and guidelines for years to come," he said.
Medvedev also pledged to promote the rule of law, eliminate corruption, improve people's living standards and stimulate private investment, as well as industrial and agricultural growth.
In honor of the inauguration, a 30-gun salute was fired. The presidential regiment was presented to Medvedev and Putin on the Cathedral Square in front of the Great Kremlin Palace. The inauguration ceremony lasted less than half an hour.