Washington -- The outlook for the housing market in the United States darkened further Tuesday as the nation's largest buyer of home mortgages said it racked up more than $2 billion in quarterly losses and forecast a steeper drop in home prices this year.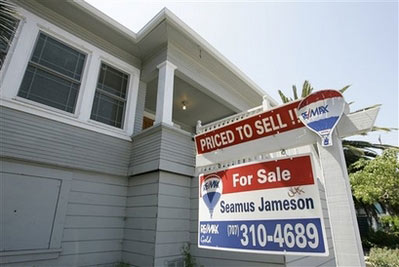 A home advertised as 'Priced to Sell' is shown in Vallejo, California, May 6, 2008. [Agencies]
If Fannie Mae's prediction proves true, the real estate woes could further shake the confidence of consumers already stung by rising food and fuel prices, and an anemic job market.
Home foreclosures are accelerating around the country, adding to the glut of unsold properties and further depressing prices. As a result, a growing number of homeowners are saddled with loans that outstrip the value of their houses.
"I think that right now we are in the belly of the cycle," Fannie Mae's president and CEO, Daniel Mudd, said during a conference call with analysts.
Mudd said home prices fell in the first quarter "faster than anyone anticipated" and that the company foresees a decline of 7 percent to 9 percent for the year, compared with earlier forecasts of a 5 percent to 7 percent drop.
Still, investors pushed Fannie's shares sharply higher as federal regulators loosened the company's capital requirements so it can play a bigger role in the mortgage market and help stabilize housing. Fannie shares jumped nearly 9 percent, or $2.52, to $30.81 in trading Tuesday.
Nevertheless, the rising tide of delinquencies and foreclosures poses considerable dangers to the broader economy, Federal Reserve Chairman Ben Bernanke warned on Monday as he urged Congress to take additional steps to alleviate the problems.
When businesses see consumer confidence buckling under the housing slump, they too start to cut back, noted Michael Gregory, senior economist at BMO Capital Markets in Toronto.
The tax rebate checks arriving in Americans' mailboxes may mitigate the chill for a while, but eventually the weakness in the housing market "will continue to drag down consumer spending," he said.
"Is the average American prepared to step up and take out a loan and buy a house? Probably not," Gregory said.
Economists say the stricken housing market is souring the mood of consumers, the most powerful force in the economy. Also squeezing family budgets are higher prices for food and fuel.
The average price of gas on Tuesday was $3.61 a gallon nationwide, an increase of 20 percent from a year earlier, and relief does not appear to be coming anytime soon, with some experts predicting an average price of $4 in the weeks ahead.
Crude oil futures leapt to a new record near $123 a barrel Tuesday as supply fears dominate the market psychology. What's more, a Goldman Sachs analyst predicted Tuesday that oil prices could rise to $150 to $200 a barrel within two years.
Filling up family members' stomachs has also become costlier.
Amid rising prices for grains and feedstock, Americans are paying higher prices at the grocery store. Egg prices have jumped 40 percent in the last year and flour prices have risen 50 percent since January, raising the price of bread, cereal and other groceries.
To help stabilize housing and the overall economy, which many economists say is on the precipice of its first recession since 2001, the US Federal Reserve embarked last fall on an interest rate-cutting campaign -- its most aggressive in decades.
Fannie, meanwhile, has been encouraged by the government to step up its purchases of mortgages as a way to provide some relief to the housing market. In recent months, Fannie and its smaller government-chartered sibling Freddie Mac have bought up hundreds of billions of dollars in additional mortgages and three-quarters of mortgage-backed securities are now issued by the two companies.
Fannie's federal regulator, the Office of Federal Housing Enterprise Oversight, on Tuesday said it will reduce the capital cushion the company has to maintain. After it raises an anticipated $6 billion in a stock sale, Fannie will be required to keep surplus capital of 15 percent of their total mortgage debt, down from the current 20 percent.
But analysts worry Fannie and Freddie may be taking on too much financial risk at a time when foreclosures continue to mount. Some critics have said that allowing the companies to take on more debt could threaten the global financial system.
Fannie lost $2.2 billion, or $2.57 a share, in the January-March period, compared with a profit of $961 million, or 85 cents, in the first quarter of 2007. Analysts polled by Thomson Financial had expected a loss of 81 cents in the latest period.
The Washington-based company announced plans to raise $6 billion in capital with sales of new stock and to cut its dividend.
Its losses from soured home loans were greatest in California, Florida, Michigan and Ohio.
Further housing slump news came Tuesday from Dallas-based D.R. Horton Inc., the country's biggest homebuilder. D.R. Horton reported that hefty charges and property writedowns swung it to a second-quarter loss of $1.31 billion, or $4.14 a share, from a year-earlier profit of $51.7 million, or 16 cents a share.