Talk of skills on the soccer field and the Brazilians readily come to mind. The very mention of baseball reminds people of the Americans. There are people in other countries who are, or were, associated with one sport or the other, but perhaps none have used it on the diplomatic field as successfully as China. Beijing's ping-pong diplomacy began in 1971 and opened the door for people-to-people exchanges between China and the US.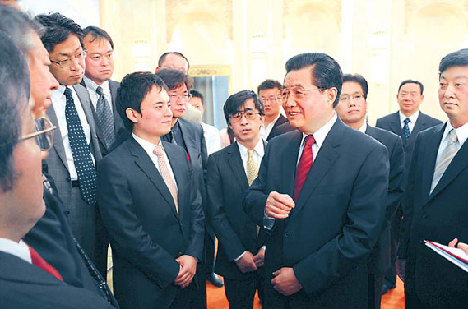 President Hu Jintao (center) talks with journalists from 16 Japanese media organizations at the Great Hall of the People in Beijing on Sunday. [Xinhua]
President Hu Jintao will now extend the ping-pong diplomacy to Japan on his five-day visit to that country that begins today to win the heart and soul of that country's people. Adding real skill and charm to his endeavor will be Wang Nan, one of China's most successful table tennis players. But she will pair with Japanese Prime Minister Yasuo Fukuda. Giving company to Hu will be Ai Fukuhara, the darling of Japanese table tennis.
Hu's visit to Japan is the first by a Chinese head of state in 10 years, marking another big step toward warmer bilateral relations. As the president told Beijing-based journalists of 16 Japanese media houses on Sunday, he said he hopes the two peoples' friendship would experience a warm spring.
"I think such an arrangement (the ping pong game) is a great thing because it would give the Japanese people the chance to see the lighter and relaxed side of Hu," says Akio Takahara, a professor with Tokyo University's Graduate School of Law & Politics. "It will make the Japanese feel close to him ... and it will help them better understand China and the Chinese people through a closer look at Hu's overall personality."
The new round of ping-pong diplomacy follows last year's "baseball diplomacy" of Premier Wen Jiabao, and reflects the two governments' efforts to add cultural and sporting flavor to high-level political visits. Wen first tried his hand at baseball with students at Kyoto's Ritsumeikan University during his visit to Japan in April last year. The university jersey he wore had his name and the number 35 - representing the 35th anniversary of the normalization of Sino-Japanese diplomatic relations. Wen put on the uniform again after his breakfast meeting with Fukuda at a State guesthouse in Beijing in December. A baseball player in high school, Fukuda wore a plain red-and-white uniform to join Wen on the field.
Politics, however, is the core of bilateral relations, something the two governments are trying to add momentum to. Expectedly, politics will dominate the first leg of Hu's visit in Tokyo, where he is scheduled to hold talks with Fukuda and other senior Japanese leaders. "This is a forward-looking trip," says Liu Jiangyong, a professor with Tsinghua University's Institute of International Studies in Beijing. "The two leaders will come up with strategic ideas on the long-term development of China-Japan ties."
Elaborating the importance of Hu's historic visit, China's ambassador to Japan Cui Tiankai wrote in People's Daily recently that it reflected Beijing's earnest efforts to strengthen its ties with Japan.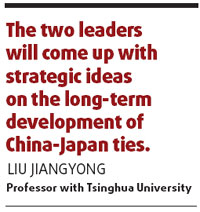 "It is very important," says Yasushi Akashi, a senior Japanese diplomat with the UN. "I hope his visit succeeds in further strengthening bilateral relations." Akashi is a political appointee, and as the International Civil Servant at the UN Secretariat Headquarters in New York, he has held the posts of Under-Secretary-General of Public Information, Under-Secretary-General for Disarmament Affairs and Undersecretary-General for Humanitarian Affairs and Emergency Relief Coordinator.
The two governments have been doing everything possible to strengthen bilateral ties, especially on the political front. Such an exercise had become necessary after former Japanese prime minister Junichiro Koizumi' soured bilateral relations by regularly visiting the infamous Yasukuni Shrine during his tenure in offices. His insistence on paying homage at the shrine that honors World War II convicts, including 14 class-A war criminals, created the worst impasse in bilateral ties since Beijing and Tokyo normalized diplomatic relations in 1972.
Koizumi's successors Shinzo Abe and Fukuda, however, realized the gravity of the situation and refrained from visiting the shrine. Abe's first overseas visit as a prime minister was to China. Welcoming him in Beijing in October 2006, Hu said his "ice-breaking" visit would serve as "a turning point" in China-Japan ties. True to Hu's words, that visit helped elevate bilateral ties to a strategic level.
Wen paid a return and "ice-thawing" visit to Japan in spring last year, and became the first Chinese leader in 22 years to address that country's parliament. He told Japanese politicians to "remember and learn from the past" and hoped the two countries would establish a "win-win economic relationship".
Wen's visit was followed by Fukuda's to China, during which he touched on the sensitive subject of Japanese invasion and occupation of parts of China. Delivering a speech at Peking University, he said: "I believe we can prevent mistakes in the future only if we look at the past properly, and have the courage and wisdom to repent what we must repent ... Sino-Japanese Japan ties have never seen this kind of opportunity ... I want China and Japan to become creative partners in building a better Asia and world."
Late prime minister Takeo Fukuda signed a landmark friendship treaty with China in 1978. This time, his son Yasuo Fukuda is expected to ink a fourth joint document with Hu.
"I hope the document will map out the common strategic interests, and show the two nations and the world the enormous potential that China-Japan ties hold," Takahara says. "The document will help reduce the two sides' concerns over the uncertainty in bilateral relations."
Akashi believes Hu's visit will be a "genuine meeting of minds ... I hope that through candid discussions between their two top leaders, China and Japan will be able to expand the area of understanding."
The Chinese have always believed people can get a new insight if they review the past. Hu is expected to do that when he travels to Nara on the last leg of his Japan visit. The capital at Nara was modeled on Chang'an (Xi'an), China's capital during the Tang Dynasty (AD 618-907). The Japanese upper class modeled itself after the Chinese in many ways during the Nara period (AD 710-784). For example it adopted the Chinese written characters (kanji) and embraced Buddhism.
Hu's visit to Japan comes after Fukuda's tour of China last year. The Japanese prime minister visited Qufu, the birthplace of the ancient philosopher Confucius, and thus put a seal of recognition on the Chinese culture's influence on Japan. It demonstrated"the common cultural background of the Chinese and Japanese peoples, too".
Sport and cultural events can help the two countries build a foundation of mutual trust, which is important for their "strategic mutually beneficial relationship".
"Sino-Japanese ties have reached a historical turning point," Akashi says. "More than 1,000 years of China's cultural superiority over Japan was followed by almost 100 years of the latter's political ascendancy, which ended in the most tragic conflict in 1945 Today, we face the challenge of building a new relationship based on genuine trust, equality and mutual respect. I am optimistic that ties between China and Japan will keep on expanding and become stronger. But we have to overcome petty rivalries and excessive nationalism on both sides," Akashi says.