NEW YORK - Crude futures topped US$120 a barrel for the first time Monday on supply concerns. Light, sweet crude for June delivery rocketed to US$120.36 on the New York Mercantile Exchange, hitting a new intraday record.
Geopolitical uncertainty raises supply concerns
"Oil prices climbed to a record once again today amid concerns as to what the impact of the most recent geopolitical events are going to have on already tight supplies," Wall Street Strategies' senior research analyst Conley Turner told Xinhua. "It is usually the same cast of characters who appears to be taking turns at driving up prices in recent months."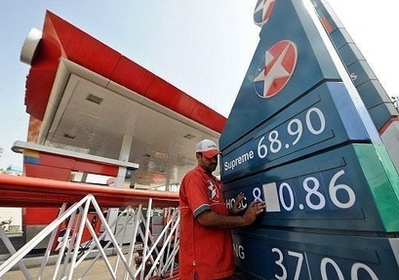 An employee of Pakistani private gasoline station changes the price on a board in Karachi. Oil prices crossed US$120 a barrel for the first time Monday following fresh unrest in Nigeria, Africa's largest oil producer, and rising tensions between the West and Iran. [Agencies]
Prices surged US$3.80 Friday amid fears Turkey's attack could destabilize oil production in the Middle East. Turkish troops bombed Kurdistan Workers' Party hideouts along the Iraq- Iran border last week in response to the rebels issued overt threats to go after American interests for assisting the Turks in this regard.
Nigeria, never too far from the spotlight, also made its requisite contribution to the price increase when rebels there attacked an oil facility in the southern part of that country, said Turner.
Royal Dutch Shell PLC said Saturday that attackers hit a flow station belonging to Shell's joint venture in southern Nigeria and that some oil production had been shut down.
Supply of crude from Nigeria, the world's eighth-largest oil exporter, has remained cut since February 2006 due to militant attacks on the country's oil industry.
Also, the fact that Iran's Supreme Leader Ayatollah Ali Khamenei said that his country was not going to not bend to international pressure and give up its nuclear program served a catalyst for higher prices, added the analyst.
Weak dollar, strong demand  
The fall in the value of the dollar against other major currencies has helped drive buying across commodities as investors view dollar assets as relatively cheap. Investors have been using oil as a hedge against the weaker dollar.
Oil ministers of the Organization of the Petroleum Exporting Countries, which provides more than a third of the world's oil, have noted that although prices are rising to record nominal levels, inflation and the dollar have softened the impact.
Since its meetings in December, the cartel has agreed to leave output unchanged, saying there is enough crude in the market.
Despite an economic slowdown in the United States, demand from emerging markets is still strong enough to drive prices higher.
Earlier last month, the US Energy Department raised its full- year forecast for US light crude to more than US$100 a barrel.
The agency expects the benchmark West Texas Intermediate contract would average US$101 per barrel this year, much higher than its earlier predicted prices of US$94.
The world oil market would remain tight this year as production increases from both the Organization of the Petroleum Exporting Countries (OPEC) and non-OPEC countries will likely fall short of projections, said the department.
"Today's move is most likely going to have an impact gas prices in the near future as it tends to follow prices in the futures market though with a lag," Turner pointed out.
"It is not unreasonable to assume that gas prices could climb higher over the next month. One way for consumers to mitigate the impact of the continued rise in oil and gas prices is to buy good quality oil stocks," he said.
"The era of higher energy prices is definitely here," added Turner.