ANKARA - More than 150 rebels of the outlawed Kurdish Workers' Party (PKK) were killed in a series of air raids carried out by Turkish army on Thursday and Friday, Turkish General Staff said in a statement issued on Saturday.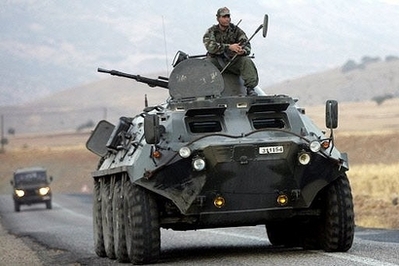 Turkish soldiers patrol the area near the Turkey-Iraq border, in the province of Sirnak, southeast Turkey in 2007. More than 150 Kurdish rebels from the separatist Kurdistan Workers' Party (PKK) have been killed in Turkish bombing raids carried out in northern Iraq this week, the Turkish army said Saturday. [Agencies]
"According to initial estimates, more than 150 terrorists were rendered inefficient and the operation led to panic among the PKK," said the statement post on the website, adding that several senior PKK commanders might be among those dead.
However, PKK spokesman Ahmed Danis denied the death toll issued by Turkish army, saying that only six of their fighters had been killed during the air raid.
"Turkish media is exaggerating the number of people killed and wounded," he said.
Turkish General Staff said in a statement issued Friday that Turkish jets bombed 43 targets belonging to the PKK in the airstrike on May 1 at Quandil Mountain's Iraqi side.
Turkish jets killed a large group of PKK rebels and destroyed 29 hideouts, 5 caves, 3 checkpoints and one communication point belonging to the PKK, said the statement.
Turkish jets bombed targets of the PKK in northern Iraq Thursday, according to the report, and the raid, which started shortly before midnight and continued onto Friday, targeted PKK camps in the Qandil area of northern Iraq.
The Turkish military has periodically bombed and shelled suspected PKK positions in northern Iraq during the past few months. In February it launched an eight-day ground incursion into Iraq.
The PKK, listed by the United States and Turkey as a terrorist group, took up arms against Turkey in 1984 with the aim of creating an ethnic homeland in the southeast. More than 30,000 people have been killed in the over-two-decade conflict.