China's central government has ordered its minister of health to spearhead a heightened effort to stem the spread of contagious diseases following an outbread of a virus, that has caused the deaths of 22 children in eastern Anhui Province.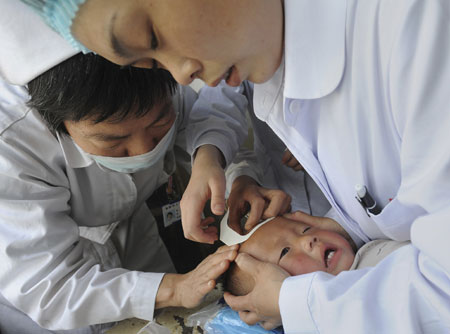 A child who is infected with a kind of intestinal virus, identified as enterovirus 71, or EV71, receives medical treatment at a hospital in Fuyang, Anhui province April 29, 2008. [Agencies]
The outbreak of enterovirus 71, a type of hand, foot and mouth disease that children are susceptible to, is another headache for Beijing as it prepares for the Beijing Olympic Games in August.
Chen Zhu, the health minister, will head a team which will try to find effective measures to curtail the spread of the EV-71 diseases from extending to other areas.
Prompting the government to act was an unusual jump in cases of the EV-71, in Fuyang, a fast-growing city in Anhui Province.
Related readings:


 Virus infection hits 2,477, kills 20


 Virus under control, but 'will spread'


 China to step up monitoring of EV71 virus after fatal outbreak

 Daily reporting on virus installed in East China
As of early Saturday, 3,736 cases were reported in Fuyang's mainly rural outskirts, a rise of 415 in about 24 hours, health officials said. Besides the 22 deaths, 1,115 people remain hospitalized, 42 of them in serious or critical condition, said the health department of Anhui Province.
Sanitation workers are seen on state TV spraying disinfectant around houses in rural areas outside Fuyang and medical teams visiting families with small children. Meanwhile, nearly 800 other cases were reported in other parts of Anhui, the health department said on its Web site.
In Guangdong Province, 1,000 miles to the south, preliminary tests showed an 18-month-old boy who died Friday was infected with EV-71, and a second suspected death is under investigation, the Xinhua News Agency said.
The Health Ministry said it expected infections to climb, and peak in June and July. While the order singled out hand, foot and mouth disease for particular concern, it also mentioned hepatitis A, measles and other infectious diseases, which used to rise in summertime.
Hand, foot and mouth disease causes fever, mouth sores and rashes with blisters. Some cases can lead to fatal brain swelling. The illness is not related to the foot and mouth disease that hits livestock.
There is no vaccine or specific therapy to treat the disease. Health experts recommend improved hygiene, with more frequent hand-washing and disinfecting areas.
People in Fuyang also complained that the local government's response to EV-71 was slow, allowing rumours to spread. The first word many people had about the outbreak were signs posted at hospitals on preventing hand, foot and mouth disease, the Beijing-based China Youth Daily reported.
However, the World Health Organization (WHO) said Thursday that while cases in Fuyang cropped up in early March, they increased sharply starting April 19.
The WHO credited a rapid response from the government for steeply decreasing the rate of fatalities in the second half of April -- to 0.2 percent of cases from 11 percent March 10-31.
The ministry has sent expert teams to Anhui to lead treatment of the disease and prevent its spread.